Early in 2020, Neil Thomas started collecting for Warrington Foodbank, following a similar initiative with Warrington Light Blue's Glen Screeton. Demand for foodbank support was still great and through unprecedented times and COVID he brought relief for many individuals and families in the area.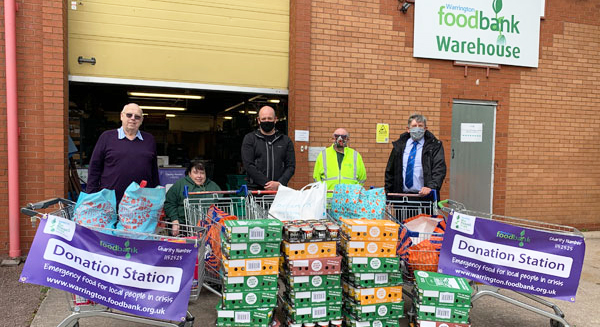 Through quiet and consistent effort, he has now achieved over 2,500 bags of shopping and raised over £2,500 for the cause, as well as numerous direct donations of both food and money. Still, this fantastic local campaign continues in the form of monthly community collections and with the Warrington Freemason appeal.
In June 2021, Dave McDonald, the Warrington Foodbank Manager, contacted Neil with an urgent request for help. Due to rising demand at the foodbank, shelves were running very low and there was desperate need for a number of key items: washing powder, washing up liquid, rice pudding, toiletries, pot noodles (for those without kitchen facilities), jam/condiments, tinned spaghetti and lots more, itemised on an emergency shopping list.
Neil contacted Andy Barton (group chairman) and John Tyrer (group vice chairman) to release donated foodbank funds raised throughout the Warrington Group. Then Neil, with the help of his wife Gill, set to work, researching the numerous supermarkets for the best deals and then convincing these to give even more donations. But it did not stop there, as the best deals were not in one place, so there were multiple trips, organising pickups and planning routes for the husband-and-wife team.
Work done, this donation was handed over to Dave McDonald, Rob Booth (warehouse manager) and Jan Barker (foodbank volunteer) by Neil and John.
Story by Neil Thomas and Eric Miller, photos by Neil Thomas.