Fleetwood Masonic Hall was honoured with the presence of Assistant Provincial Grand Master Duncan Smith and Provincial Grand Chaplin Rev Canon John Hall at a ceremony to give thanks to Frontline Workers.

Also in attendance at this ceremony to honour and pay gratitude to NHS, Social Care and Frontline Workers were North Fylde Group Assistant Chairman Tony Farrar, Fleetwood Town Council Deputy Chairman Mary Stirzaker and Chairman of Fleetwood Civic Society Margaret Daniels.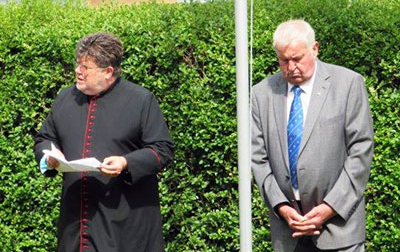 5 July 1948 saw the birth of the National Health Service, a major social reform following the Second World War. The founding principles were that services should be comprehensive, universal and free at the point of delivery. Moving on to the present day, at no time in its 73-year history has the service been needed more.
The dedication of its doctors, nurses and supporting staff in fighting the modern scourge that is COVID-19 will surely go down in history as a dark time when so many have given so much. Not forgotten are all the other frontline and key workers, including care workers, shop staff, delivery drivers, the police, fire service and an army of volunteers who have shown the spirit that this country is famous for.
The morning's events started with Fleetwood Masonic Hall Chairman Rodney Greenall welcoming everyone and thanking the NHS staff for their hard work in fighting this invisible enemy and key workers who kept our shops stocked and open, our streets safe and our essential services running.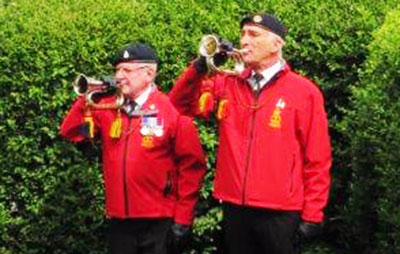 Prior to the two-minute silence Father John, a member of Fleetwood's Pharos Lodge No 7421, dedicated a prayer to all the NHS and frontline staff and key workers and all those who had gone before in the National Health Service's 73 years history.
As his address ended, the 'Last Post' was played by two buglers of Fleetwood Old Boys' Band, John Scott and Roy Bond. This was followed by a two-minute silence. John and Roy also sounded 'Reveille' as a special commemorative flag was lowered and re-raised.
Rodney Greenall thanked everyone for attending the day's events and taking the time out to pay gratitude to the work of the members of the NHS, social care and frontline workers.