The members and guests of Anderton Lodge No 8470 gathered to witness the installation of one of their more junior members Philip Naughton as WM in a ceremony full of excellent and heartfelt ritual by all those who took part.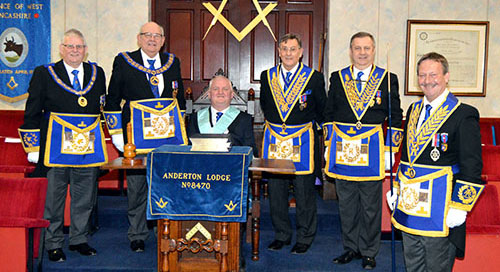 As always on such occasions the lodge was pleased and honoured to welcome their principal guest who on this particular evening was the Deputy Provincial Grand Master Philip Gunning who was accompanied by a host of grand and acting Provincial grand officers, making the evening that much more special.
The evening was however missing one important character in the outgoing master Stephen Howarth, who sadly could not be there due to ill health.
All those present, members and visitor alike, sent their best wishes on to Stephen, wishing him a speedy recovery.
Philip Naughton was installed in a ceremony led by his good friend and proposer into Freemasonry, Frank Wilkinson, who, assisted by many other members of the lodge, conducted a truly wonderful ceremony.
As always on such occasions the new WM's first duty was to present the charity donations and this year the members of Anderton Lodge donated an impressive total of £2,950 to a variety of both Masonic and non-Masonic charities.
Philip, the new WM, has been a member of the lodge for some years and has taken a more active part since retiring from work. He has a passion for travel and following his retirement, took a 12-month sabbatical from Masonry and life in general to travel the world and see many of the sights that most people will only ever see on the Discovery Channel.
Since retiring he has gone through the many offices in the lodge and is keen to explore other aspects of Masonry, the first of which was to join the Royal Arch earlier in the year in which he is becoming an established member.  He also likes the social side of Masonry and regularly attends the many social functions that Anderton Lodge is well known for putting on.

Following the ceremony, the festive board was the usual great Anderton Lodge night out, with over 60 people dining in the beautiful surroundings of Westhoughton Masonic Hall, enjoying good food, great friendship and fellowship amongst all those present.
The final words of the evening were from Philip who, after thanking everyone for attending and especially those who took part in the evening's ceremony, said he was really looking forward to his year in office and all the happy memories it will make.