At the March 2023 installation meeting of Carnforth Lodge No 4951, Mike Barrett was installed as WM of in the presence of Provincial Junior Grand Warden Sylvester During, the representative of Provincial Grand Master Mark Matthews.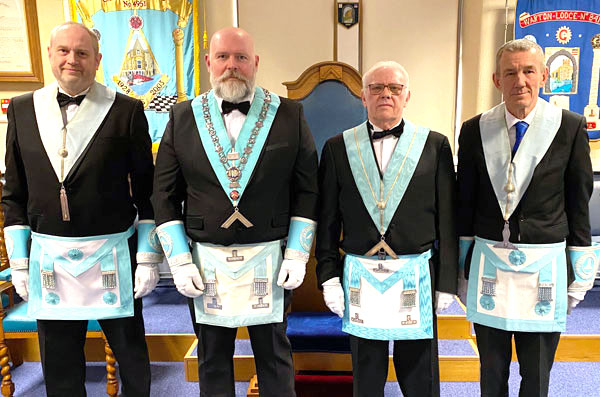 Sylvester was accompanied by grand officers, past group chairman Jim Wilson and Chairman of the Lancaster Group Neil McGill. Scott Devine, Vice Chairman of the Lancaster Group and Chris Larder Secretary of the Lancaster Group were also in attendance with acting officers Provincial Junior Grand Deacon Dave Shaw, Provincial Grand Standard Bearer Tim Gill, Matt Kneale and Mark Little, Provincial Grand Stewards.
Acting WM Jim Catlow opened the lodge on behalf of the WM Clive Astley who has been suffering ill health. Jim conducted the installation ceremony assisted by director of ceremonies Paul Fuery. Master elect Mike Barrett was presented for installation by Ian Allison. The installing officers were, senior warden Richard Blenkharn, junior warden Ian Allison and inner guard Barry Hogg.
The master's working tools were presented by Matt Kneale. The third degree working tools were presented by Peter Wood, the second degree working degree tools by Bill Harwood and the first degree working tools by Steve Birch. The WM appointed Stephen Horrocks as senior warden and Simon Forgham as junior warden.
The address to the master was given by Ian Allison, the address to the wardens by Paul Coward and to the address to the brethren of Carnforth lodge by Sylvester During. Provincial Junior Grand Deacon Dave Shaw gave the address to the deacons and Matt Kneale gave the address to the Stewards.
Sylvester During was pleased to announce that the lodge had made donations to Masonic and non-Masonic charities to the value of £3,295.91 for which he thanked the brethren of the lodge. The organist was Peter Wood and the Master's Song was performed by John Bates. A total of 51 brethren attended the festive board. The toast to the WM was given by Ian Allison. The raffle raised £400.
Mile Barrett was born in Wanstead, East London in March 1969 to Maureen and Rex Barrett. The family later moved to High Wycombe and then when Mike was six years old there was another move to Chinnor in Oxfordshire. Mike attended Icknield Secondary School, leaving at 16 to start an apprenticeship as a toolmaker at Barry Hutton Precision Engineering. Mike got his first glimpse of Freemasonry when his boss Barry Hutton went through the chair in a West London lodge. Barry had promised that when Mike turned 21, he would invite him to join his lodge. Unfortunately, by the time Mike came of age, he was married with a large mortgage, his first child on the way and the rigours of the 1990's recession. It would be another 20 years before Mike was able to join Freemasonry.
Mike worked as a toolmaker for a further 10 years before changing direction, working in shopfitting design in East London. He met his wife Suzy in 2001, married in 2002 then later that year moved to Suzy's hometown of Lancaster. Mike has four children, James 17, Emily 18, Denise 29 and Alex 32.
His first job in Lancashire was working for ADF Kitchens in Fulwood as a kitchen salesman, even though he knew nothing about kitchens or sales! Over the next year he honed his design skills and by the end of that year was one of the top designers.
In 2005 Mike was approached by Phil Rogerson in Carnforth to work for him as a bathroom designer. It was here that he first met Jim Wilson who also worked for Phil. In 2009 Mike took over the showroom close to Kerneforde Hall and ran his own business for seven years before selling it. Mike then worked for J & J Ormerods as an area salesman selling kitchens to showrooms before becoming the kitchen and bathroom showroom manager for C & C Supplies in Garstang.
Mike joined Carnforth Lodge during the time he was running his own business. He was asked to quote for a disabled wet room for Ernie Greenhalgh in Morecambe and during the meeting to discuss the project was asked by Ernie if he had ever considered becoming a Mason? Mike was proposed as a member of Carnforth Lodge by Jim Wilson, which was seconded by Martin Baxendale. Mike is now in his 10th year as a Freemason.