In a recent communication from the Provincial Grand Master, Tony Harrison outlined a scheme to collect and present donations to local foodbanks on 12 December 2020.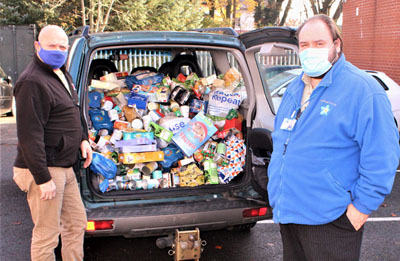 As the months during 2020 have been, to say the very least, challenging for everyone, this scheme aims to ease the hardship experienced by families, particularly at this time of year by providing food, toiletries and if possible, Christmas presents for children. Unfortunately, studies carried out by the South Eastern Group Officers have been unable to locate a suitable foodbank in the local area, so a decision has been taken to open one of their own at Urmston Masonic Hall.
Over recent years there have been stories in Freemasonry Today and local newspapers concerning Ezra McGowan of Hand and Heart Lodge No 4109. Ezra, along with his brother set up a registered charity called The Forget-Me-Not Trust (No 1164359) and started a foodbank in their local community of Northenden.
Ezra's foodbank has been running successfully for approximately 10 years now and has been supporting a grateful number of local residents for that period and even more in the festive seasons. Ezra has kindly offered his experience and assistance in setting up a foodbank and, in conjunction with other local Masons, the first steps in the process of setting up were taken to establish a Masonic Foodbank in Urmston.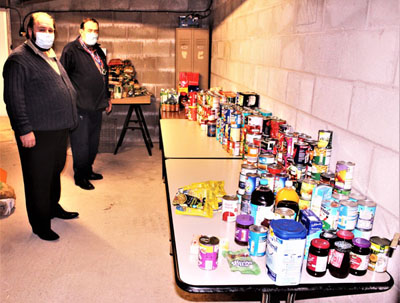 As previously stated, 2020 has been extraordinarily difficult, with the pandemic indiscriminately challenging all members of society whether they are homeless people, ordinary working people, successful business owners, rich and poor alike. With this initiative, hopefully, Freemasonry can help to bring a little relief over the festive season and assist families in getting through the winter months.
Tony Harrison has asked that Masons and their families throughout the Province of West Lancashire collect an item a day throughout the month of November to pass on the those in need collectively on 12 December. On the morning of Saturday 7 November, the first donations were stored at Urmston Masonic Hall and as the month progresses and donations are collected the foodbank looks set to become more and more viable.
Although initially set up to service the wishes of the Provincial Grand Master and dispense aid and good cheer on 12 December, since there is a good deal of work involved in setting up such an enterprise it will be remaining open until 31 January 2021 and, who knows, if things go well and the demand is there it could conceivably become a local fixture!
A local team of is now being set up to administer and collect donations so if you wish to volunteer your services or arrange the collection of donations you can, as a first point of contact, email Shaun Brookhouse at foodbank@masonicmail.net and he will make suitable arrangements.