Another batch of three Masonic Charitable Foundation 2021 Festival Certificates have been presented within the Liverpool Group, this being the first time many have met since suspension of meetings due to the present pandemic.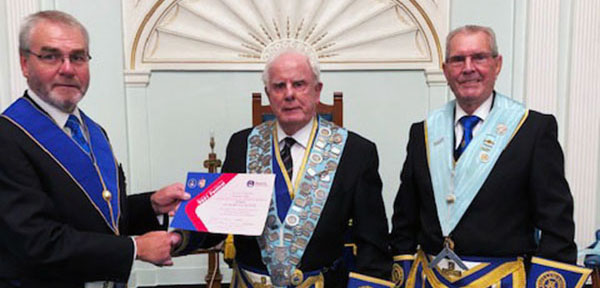 These certificates were presented to Merchants' Lodge No 241, Temple Lodge No 1094 and Woodend Epworth Lodge No 5381 in recognition of the members achievement in raising funds during the MCF2021 Festival.
At Merchants' Lodge a Patron's Certificate was presented by Regional Charity Steward Barry Fletcher and it was graciously received by the lodge charity steward Tom Wood alongside the WM Glyn Pine. Tom must be getting used to receiving certificates as he was presented with one for his celebration of 50 years in Freemasonry in September 2021.
Barry Fletcher was out again for the regular meeting of Temple Lodge when he presented the lodge with their Vice Patron certificate, which he gave to their charity steward Howard Youdan.
The third certificate was presented by the Liverpool Group Charity Steward Tony Fennell to Woodend Epworth Lodge. This was for their Vice Patronage of the MCF 2021 Festival and was received by Derek Evans as master of the lodge.