Blackpool Masonic Hall was dusted down off the cobwebs and made ready to receive the members and guests of Blackpool Lodge of Fellowship No 7692 for their installation meeting, after what seemed like a very long time in hibernation.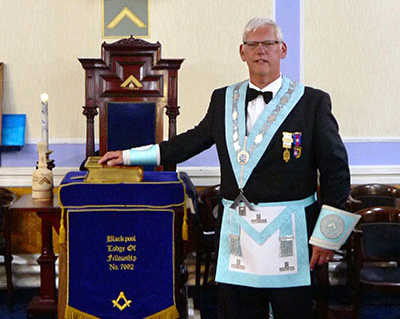 The first important item of consideration was to declare Neil Higgins as the master elect of the lodge. This being completed, Past Assistant Provincial Grand Master Kevin Poynton, representing the Provincial Grand Master Tony Harrison, was welcomed into the lodge and after exchanging pleasantries Neil Higgins was installed into the chair of King Solomon in a most sincere manner by Arthur Caldicott and the officers of the lodge.
At the conclusion of the ceremony Kevin Poynton brought greetings from Tony, who would have warmly congratulated all the brethren involved in the day's proceedings. Kevin went on to say that the last 18 months to two years had been a difficult period for everyone and that the lodge was to be congratulated on the quality of ritual after such a long time of inactivity.
The newly installed WM Neil, presented a cheque for the Masonic Charitable Foundation 2021 Festival to make the lodge a Grand Patron of the 2021 Festival. In exchange, Kevin presented a certificate to the lodge to commemorate the achievement.
With an audible sigh of relief, the ceremony ended and the brethren retired to the bar before assembling in the dining suite for fine food and convivial banter around the festive board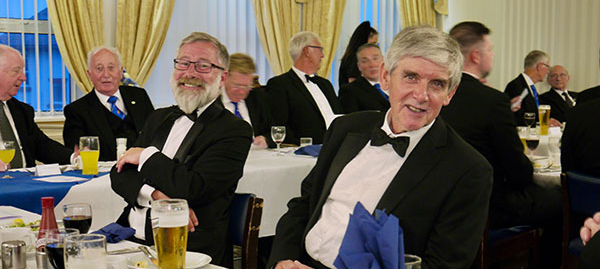 In his reply to the toast to the grand officers, Kevin thanked the members of Blackpool Lodge of Fellowship for the kind invitation to attend the installation that afternoon.
Kevin went on to say that Freemasonry was slowly getting back to normal and that it was now that Freemasons should reach out to the existing members who may have lost interest due to the inactivity during the last 18 months; whilst at the same continuing to attract new members. Keeping in contact with all members of the lodge is essential for success. Kevin concluded by wishing Neil a wonderful year as master and the lodge health, happiness and success for the future.
Neil thanked Kevin for his kind words, saying that it was always a pleasure to welcome Kevin to Blackpool. Neil also thanked all those who took part in the ceremony, making it a very happy and special occasion for everyone who attended on the day.