This was a special occasion for the brethren of Prodesse Lodge No 8678 to witness, and one that does not happen very often. The meeting was held at the Wigan Masonic Hall and welcomed the principal guest Geoffrey Porter PAGDC who was looking forward to this meeting.

WM Ryan Mangnall opened the lodge and welcomed the principal guest Geoffrey Porter, accompanied by Wigan Group Chairman John Selley and Ian Green. The business of the meeting was opened before the WM then invited David Goulden to take the chair and install his son, the master elect, Alexander, into the chair of King Solomon, which he did in fine form, ably supported by Ian Warburton DC and George Unsworth ADC.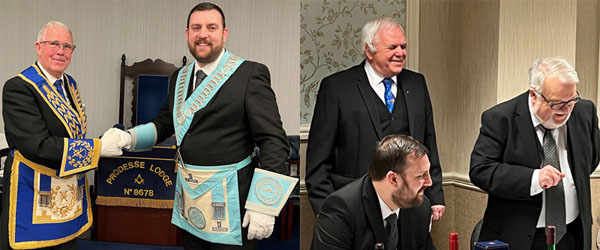 The working tools were excellently explained by degree Ben Murphy, Jack Lyon and Ryan Mangnall. David Goulden delivered the address to the master (his son), John Aitken delivered the address to the wardens and John Selley the address to the brethren of the lodge.
Charity donations presented on the night from the lodge were £300 to WLFC and £300 to Hindley Amateur Rugby League Football Club.
A splendid festive board ensued at which David proposed a very personal and emotional toast to his son and then sang the master's song.
A very enjoyable evening was had by one and all, made all the more memorable by a father installing his son.