The brethren of West Lancashire Century Lodge No 2349 and the lodge's guests were pleased to have as the principal guest Geoff Pritchard.
Geoff was accompanied by fellow grand officers, Terry Hudson, Harry Cox, Duncan Smith and David Thomas together with the North Fylde Group Assistant Chairman John Cross supported by acting Provincial grand officers, Jim Gregson, Gavin Egan, Jim Finnegan and Terry Murtagh.
At the start of the evening proceedings, the WM, Steve Willingham, thanked all of the brethren and officers who had supported him throughout his year in office. Steve then completed the business of the lodge before formally welcoming Geoff and his entourage.
Steve then invited the installing officers to occupy their respective offices. The lodge was then opened through the various degrees and, once in the third degree, the director of ceremonies Shaun Haynes offered salutations to the grand and Provincial grand officers.
The master elect, Scott Coxey, was presented by his son Niall in what was one of the most touching parts of the ceremony. Scott was then installed into the chair by his predecessor Steve in accordance with ancient custom, in what can only be described as a first rate ceremony.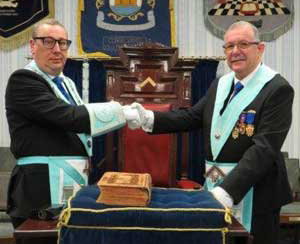 The working tools were well presented by Niall Coxey for those of the third degree, Adam Turner presented those of the second degree and Damian Davenport presented the first degree tools. The address to the master was given by Jon Evans from Scott Coxey's mother lodge, Wings Lodge No 8651 that meets in Penarth, Glamorganshire.
At the conclusion of the ceremony Geoff brought the greetings of the Provincial Grand Master Tony Harrison to the new master and congratulated Steve Willingham on a first rate job of installation.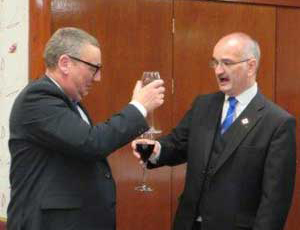 Scott then presented Geoff with cheques for £400 for Shelter, £400 for Dementia UK and £300 for Brian House. In addition, over the past year the lodge has made a donation of £600 to the 2021 MCF Festival and £775 to Blue Skies at Blackpool Victoria Hospital for the Family Donor Organ project. Geoff thanked the lodge members for their generosity.
Geoff, during his humorous response to the toast to the grand officers, brought his own congratulations to the new master and all the officers who had played their part in what he termed an 'exemplary ceremony'. Geoff commented that it was very unusual to see a father presented by his son and praised Niall for the manner in which he had done it. Geoff continued his response by touching on many subjects including recruiting new members, the 2021 Festival and membership of the Royal Arch.
The master's song was wonderfully rendered by the hard working Shaun Haynes and he was accompanied on the piano by Malcolm Burrill.
The evening's West Houghton raffle raised an impressive £301 which will go to Masonic and non-Masonic charities.