St David's Lodge No 2950 was formed on Friday 20 February 1903 and celebrated its centenary in 2003. At that time, it was in reasonably good health but due to a number of factors it has since experienced declining membership and so it decided to surrender its warrant last October.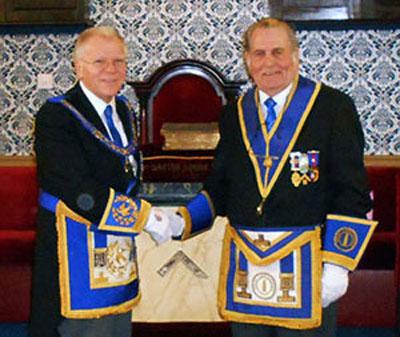 David Jones discussed with members from the Warrington Group that St David's Lodge was going to close and they informed David that there were a number of Warrington Masons who wanted to open a daytime lodge in Warrington and that this would be an ideal opportunity to take over the lodge with its 117-year history. This was agreeable to the Warrington brethren and at its installation meeting St David's Lodge installed its new WM and bid the Garston Group a fond farewell before moving to Warrington.
The installation was well attended in the presence of Assistant Provincial Grand Master Derek Parkinson who was the principal guest for the day and was joined by other distinguished brethren. Unfortunately WM Hugh O'Neill could not attend and so Colin Clark installed David Jones into the chair. The ceremony was completed on schedule with David and the officers of the lodge appointed into their respective positions and also the working tools and addresses were delivered.
With the installation completed the principal guest stood to offer the congratulations of the Provincial Grand Master Tony Harrison to the WM and also to Colin on the ceremony.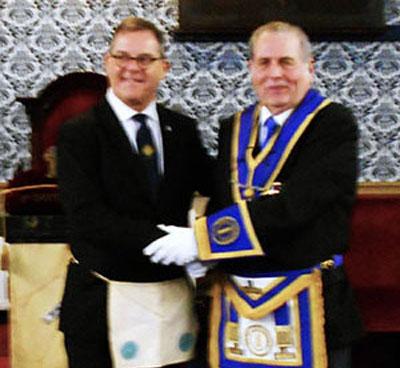 With the main business of the evening being concluded the lodge was closed in due form and the brethren retired to attend the festive board. At the festive board, in addressing the brethren, Derek advised them he had visited a daytime lodge while in Australia and that lodges with retired brethren should consider their example.
WM David explained that with the move to Warrington they have 12 joining members with another 12 due to join them. He said he was hopeful the move would be a success and that daytime lodges would be the future of Masonry in general. He also indicated that one of the visitors was David Williams from Verney Lodge No 8849 in Buckingham; his connection to St David's Lodge being that his father Aled Williams was initiated into St David's on the 15 March 1940.
Finally, David closed festivities with St David's Lodge's tradition of singing the Welsh National Anthem.