Garston Masonic Hall was the venue for the 50-year jubilee celebration for Les Garner of Excelsior Lodge No 3580.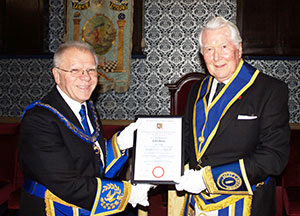 On this very special evening for Les, the lodge was delighted to have as their principal guest, Assistant Provincial Grand Master Derek Parkinson. Derek was joined by fellow grand officers Sam Robinson and Garston Group Chairman John Murphy. Ensuring the evening ran smoothly was in the capable hands of Assistant to the Provincial Deputy Grand Director of Ceremonies Ryan Modlin.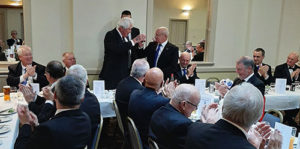 After conducting the initial business of the evening, lodge WM Dave Ullathorne welcomed Derek and all the other assembled guests, amongst whom were group vice chairman Dave Atkinson, Les's son Lee and many of his friends from North Wales. With the brethren having offered Derek the appropriate salutation, the WM then offered him the gavel of the lodge which, on this particular evening he retained.
Derek requested that Les be placed before him before delivering a thoroughly researched and interesting review of Les's life both domestically, professionally and Masonically from his formative early years up to the current day. To read Derek's presentation, click on the following link: Garston Family and friends join Les celebrating 50 years – Derek Parkinson's presentation.
With the remaining routine business concluded, the lodge was closed and the brethren gathered in the lounge to enjoy pre-dinner drinks prior to taking their seats in the dining room to enjoy a well-deserved dinner.
Later in the evening, Les recalled some of the many memorable and enjoyable Masonic events over the last 50 years. He stated that apart from marrying his wife Beryl, joining Freemasonry was the best decision of his life.