The term Sherriff's men is often associated with the legend of Robin Hood, with the men in question being thought of as villains and brigands. In this instance however, nothing could be further from the truth!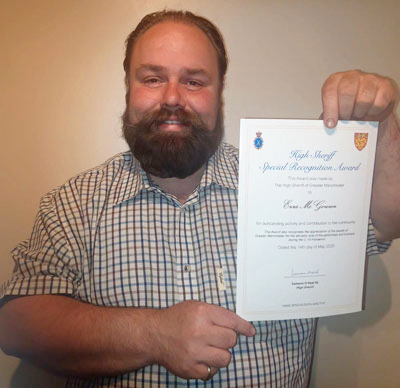 The charitable exploits of Ezra McGowan who, through the auspices of his charity 'The Forget Me Not Trust' has been feeding and clothing the homeless in Manchester amongst many other places! However, over the recent weeks whilst we have been in lockdown he has also been tending to his neighbours and other local residents, at no little risk to himself.
During the early weeks of the lockdown as we were all trying to come to terms with this strange new world of social distancing, closed shops and queuing for basic necessities, Ezra shopped and delivered basic supplies to all around him. Even after contracting COVID-19 himself, after recovering, he donned his mask and gloves and headed out once more into the locked down streets delivering his life saving gifts.
Also, Wayne Devlin, with whom you might not be quite as familiar with as Ezra, has also been out and about delivering basic requirements to locals in Trafford despite contracting and recovering from COVID-19. Wayne, although only recently having become a Mason, has been a familiar figure in and around Trafford for a number of years as a local entertainer regaling us with renditions from the 'Rat Pack' amongst others, switching on the Christmas lights in Urmston town centre and working tirelessly for the community and the disadvantaged in general.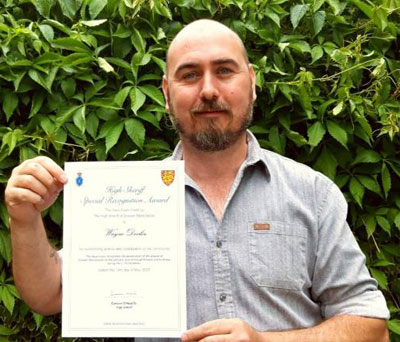 Ezra and Wayne, both members of Hand and Heart Lodge No 4109 in the Province of West Lancashire, have been recognised for their tremendous and selfless charitable works and received awards from the High Sherriff of Greater Manchester, Dr Eamon O'Neal DL, who has seen fit to award them both with certificates of special recognition for outstanding activity and contribution to the community. The award also recognises the appreciation of the people of Greater Manchester for the altruistic acts of thoughtfulness and kindness during the COVID-19 pandemic.
They have both received their certificates in recognition of the award and when the lockdown restrictions are lifted will be invited to a High Sheriff event, at which their good deeds will be celebrated appropriately.
The High Sheriff Special Recognition Award is made to individuals or groups of individuals who have made an outstanding contribution to the community during the difficult circumstances brought about by the COVID-19 pandemic and both Ezra and Wayne have gone far, far above and beyond to make sure that those who need assistance at this unfortunate period in our history get help wherever possible.
Ezra and Wayne have clearly demonstrated all that Freemasons aspire to and are both superb examples to all new and young Masons in the art of putting into practice the principles of brotherly love, relief and truth that Freemasonry is built upon.