An evening of excellence was had by all at the Vale of Skelmersdale Lodge No 8719 installation meeting at the Ormskirk Masonic Hall. Unfortunately, the designated representative of the Provincial Grand Master Mark Matthews was unable to attend.

The Chairman of Ormskirk and Bootle Group Graham Chambers kindly stepped in and was ably supported by the group vice chairman Derek Midgley, whilst Mark Holloway accepted the salutations on behalf of the Provincial grand officers, present and past.
Lodge director of ceremonies Michael Hennessey oversaw the ceremony with Ken Meath acting as senior warden, Jim Holt acting as junior warden and Phil Dickinson remaining as inner guard.
Immediate past master James Roberts did an excellent job as installing master, in putting master elect Clifford Boynton into the chair of King Solomon.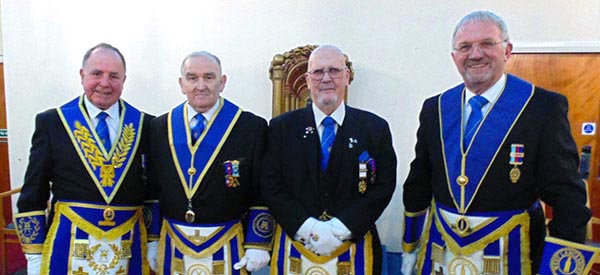 Outgoing WM David Woods thanked the brethren for their support and trusted that they would offer the same support to Clifford.
The third degree tools were presented by Ronnie Dutton, whilst the second and first degree tools were presented by Nick Turner and Phil Dickinson respectively, both of whom were light blues. The address to the newly-installed master was presented by Fred Hargreaves and that to the wardens by Ken Meath.
Graham, being word perfect in his address to the brethren of the lodge, then also conveyed the congratulations of the Provincial Grand Master to Clifford, which prompted Clifford to inform Graham of the lodge's donations to charity. £500 to the Turkish and Syrian Appeal and £500 to the Ukraine Appeal, which had already been forwarded as both charities' needs were urgent.
An unusual and interesting part of the ceremony was a description and explanation of the lodge crest by Mike Hennessey, depicting the lodge's journey 'from the past, through the present, and forward to the future.' The description was written by Fred Hargreaves.