There must be, in every chapter's history, that one ceremony that defines the chapter, when every officer and companion knew their part and performs it with confidence and dignity. The exaltation of George Scott Burns (known as Scotty) was one of these moments.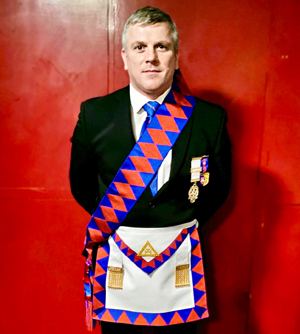 On entering the chapter room Scotty was smartly dressed, all regalia correctly in place and walked confidently through the ceremony.
It would be unwise to single out any one companion for praise; everyone fulfilled their obligation to their own respective offices with grace and sincerity.
Scotty has been a Freemason for 18 months. Initiated, passed and raised in the Blackpool Lodge of Integrity No 5864 and is currently the lodge charity steward and junior deacon.
It's no wonder that Scotty has a keen interest in Freemasonry, with his family's Scottish Masonic background this comes as no surprise. Scotty's grandfather was a member of Lodge Colinton and Currie No 1029 and his uncle was a member of The Rifle Lodge No 405 both under the jurisdiction of the Grand Lodge of Scotland and Scotty has many friends in various Scottish lodges.
The final words must go to Scotty himself who describes his own exaltation ceremony with humble eloquence.
"Having had time to absorb what went on, I can honestly say that, in my humble opinion that was by far the most enjoyable of the degrees I have done so far. So much so, that I can't wait until next month to attend another exaltation ceremony. All you lads who haven't yet done this degree are really missing out. To top that off, the warm welcome I was given by everyone was second to none. Thank you all."
Written by Gordon Ivett.