Everton Lodge No 823 brought their season to a close with a 'Ladies to Dine' festive board.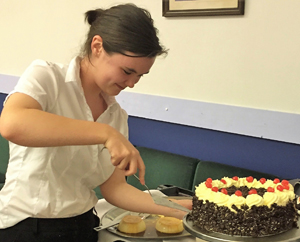 The lodge meeting was opened in the usual manner and standard business covered with due regularity. A ballot took place to admit as a joining member Phil Eddows, which proved to be in the affirmative and after hearing communications, honouring the charities and accepting apologies, the lodge was duly closed. The members then joined with their ladies for a reception held in the newly decorated top banqueting suite
Although being in existence continuously since 1860 and hosting many events in that time, it may have well been a first for the lodge in presenting a carvery at the festive board. As events turned out on the night, this definitely will be replicated on future occasions. Since taking on the catering at Liverpool Masonic Hall, Dave and Eta Aitken have endeavoured to make as wide a range of options available with a differing menu to suit all.
The carvery for Everton Lodge lived up to all expectations in admirable fashion, with choices to suit all. The starter on the evening was either a prawn cocktail, or soup, although individual requirements were also catered for. The main meat for the carvery consisted of turkey, gammon, lamb and beef, served in whatever combination was requested by the diner. This was accompanied by roast potatoes and a variety of vegetables. If one could continue after such a succulent meal then the dessert trolley was available
Everyone present thoroughly enjoyed the evening, with high praise given for the catering, with a visiting official remarking that it was one of the best meals they have had. The hall is fortunate to have acquired the services of Dave and Eta, who are always willing to cater for any type of occasion within the hall.