The brethren of Eureka Lodge No 3763 and their many guests gathered at Litherland Masonic Hall for the installation of David Lyon as their new WM. For the evening's ceremony the lodge was honoured by the presence of Past Assistant Provincial Grand Master Kevin Poynton as their principal guest. Kevin was accompanied by the Ormskirk and Bootle Group Chairman Graham Chambers and acting Provincial grand officers Rory Green, Stephen Oliver, Alan Browne and Brian Smith.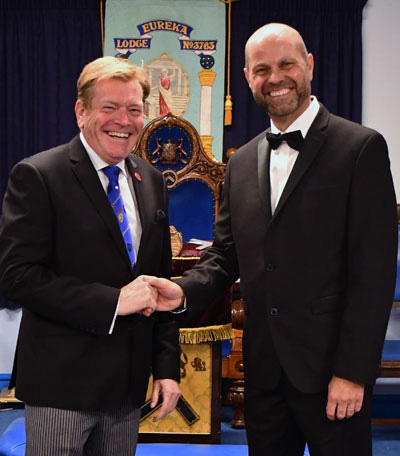 On the night the lodge was opened by the outgoing master Gary Adamson, who due to the COVUD-19 pandemic has presided over the lodge in this role for the last two seasons. On completing the opening, as well as the lodge business, the lodge admitted Kevin into the room and welcomed him to the lodge.
Once the procession was seated the commencement of the installation ceremony began, with the master elect David Lyon being presented by Stan Edwards, before being installed in the chair of King Solomon in an excellent ceremony by Gary Adamson.
David's first duty as master was a pleasant one, as he presented a number cheques to Kevin for this year and a list of the donations for the 2020 season. The donations for 2020 were as follows; £350 to R Charity Supporting the Royal Liverpool and Broadgreen University Hospitals, £750 to the MCF Festival, £500 to Derian House, £100 to the Foodbank appeal, £100 to Litherland Masonic Hall, £300 to the Scouts and £150 towards Andrew Haseldine's sponsored walk in aid of one of the local scout groups. This walk raised a total of £1,250.
This year the lodge donated £250 to the West Lancashire Freemasons Charity, £250 to the Litherland Masonic Hall, £150 to the YMCA Bootle, £125 to Alder Hey Hospital, £125 to Marie Curie and £100 to the Woodlands Hospice.
Kevin on behalf of the recipients thanked the members of Eureka Lodge for their very generous donations over the last two years.
The YMCA Bootle is part of the largest voluntary provider of safe, secure and affordable supported housing for young people in England. Every night, over 7,000 young people stay at a YMCA in 250 communities throughout England. The type of help they offer varies from community to community, but their aim is always the same; to provide services that enable young people to grow and develop in every aspect of their lives.
Offering a range of support to families, including childcare services, holiday clubs, respite for young carers, before and after school activities, support for those at risk of exclusion from school, family mediation and parenting programmes.