One year late due to the COVID pandemic, it was in January 2023 that Eric Walker finally celebrated his 50 years as a Freemason since his initiation in 1972. The ceremony was conducted by Assistant Provincial Grand Master Peter Schofield. Peter was accompanied by Provincial Deputy Grand Director of Ceremonies Ryan Modlin, together with grand officer and Lancaster Group Chairman Neil McGill. Acting Provincial grand officers in attendance were Provincial Junior Grand Deacons David Shaw and Alfred Dickinson, Provincial Grand Standard Bearer Tim Gill and Lancaster Group Vice Chairman Scott Devine.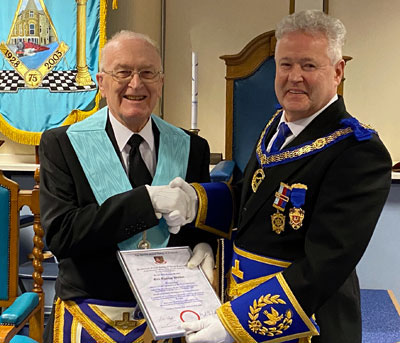 Peter was conducted to the pedestal by Ryan Modlin, where he was introduced to the WM of Warton Lodge No 8411 Richard Escolme who offered him the master's gavel, which was duly accepted. Peter asked Ryan to escort Eric Walker to a seat in front of the podium so that he could give an account of Eric's life and Masonic career to the brethren.
Peter commenced his presentation by reminding the older brethren of events that took place in 1972. Ted Heath was Prime Minister. The UK changed its currency to decimal. The National Union of Miners were on strike for 45 days leading to a 3-day working week. The British Army was involved in the Bloody Sunday incident in Northern Ireland. Unemployment was at an all-time high. The average cost of a house was £4,700 to buy and £600 to buy a car. The average annual salary was £1,200. Fuel cost 35p per gallon and it cost 20p for a pint of beer.
Eric Walker was born in October 1937 at the Royal Naval Gynaecological Hospital on the south seafront in Portsmouth. His father William was an officer in the Royal Navy based in Portsmouth and mum Lilian was a busy housewife looking after the family home and bringing up her family. Eric had an older brother David who sadly passed over 20 years ago.
Eric attended Langstone Primary School before completing his education at Portsmouth Northern Grammar School. He left school with 8 'O' Levels and 2 'A' Levels. During his school years, Eric was a keen sportsman playing football and cricket for both schools and was captain of the grammar school football team at all age levels.
In 1956 after leaving school, Eric secured an apprenticeship with the Central Electricity Generating Board as a chemical engineer. During his apprenticeship he attended Portsmouth Technical College and gained diplomas in chemistry and physics, qualifying as a Licentiate of the Royal Institute of Chemistry and a corporate member of the Institute of Fuel. Eric later became a registered Chartered Chemical Engineer, considered to be one of the most challenging qualifications available. Eric was later employed on nuclear installation plants in Hong Kong, followed by three years in Ontario, Canada employed on hydroelectricity plants for the Canadian Utility Corporation.
On return to the UK, Eric secured employment as a Senior Chemical Commissioning Engineer at Heysham 1 & 2 Power Stations working for the National Nuclear Corporation where he remained for 17 years. Eric settled in Carnforth as his long-term family home.
On completion of Heysham 1 & 2 the government of the day made the decision not to build any further nuclear power stations and Eric along with many colleagues was made redundant. The National Nuclear Corporation soon realised they had made a huge mistake by allowing such experience and in-depth knowledge of the plant to leave the site and invited him back to help avert a looming crisis.
Eric set up his own company as a Technical Author and was responsible for the writing and implementation of safe working practices and operational procedures and directives to maintain the safety and operation of the Heysham Plants before his retirement in 1998.
Due to his very busy and demanding working life and Masonic career Eric found it very difficult to find time for other hobbies but does enjoy gardening when time allows and since his retirement spends many hours tending his garden at the family home.
Back in the early 60's while visiting the dentists at the local hospital in Portsmouth, Angela Lamb, a State Registered Nurse who was working there at the time caught his eye. After plucking up the courage he asked to meet her on a date. The relationship developed and following a suitable courtship they were married on the 29 September 1962 at Bournemouth. Eric celebrated their diamond wedding anniversary last year and received a congratulations card and letter from King, Charles III.
Eric and Angela have been blessed with two daughters, Alison who lives in Leeds and Deborah who lives in Manchester. Alison owns her own beauty business and Deborah is an office manager for the Health Authority in Manchester. They also have two grandchildren, grandson Max and granddaughter Madeline.

Eric's Masonic journey began on 9 January 1972 while he was working in Hong Kong. Poor and penniless he was initiated into Cathay Lodge No 4373 in the District Grand Lodge of Hong Kong and the Far East. He was passed to the degree of a fellow craft on 2 June 1972 before being raised to the sublime degree of a master Mason that same year. Eric's proposer was Guy Walker and his seconder was Jim Macathrey. Due to work commitments in Hong Kong, it was impossible for Eric to progress through the offices at Cathay Lodge although he remained a member for many years.
On return to the UK and eventual relocation to Carnforth, Eric became a joining member of Warton Lodge on 17 October 1979. His proposer was Alan Ibitson and his seconder was Jack Walsh. Eric progressed through the various progressive offices at Warton Lodge. He was junior warden in 1994 and senior warden in 1995 before becoming WM in 1996. He served as lodge treasurer from 1987 to 1993 and again from 2001 to 2011, a magnificent period of some 16 years, the duties of which he fulfilled with excellence. He is currently lodge almoner. Eric is considered a stalwart of Warton Lodge and his hard work and dedication over many years has gained the respect of all of his brethren not just in this lodge but across the whole group. In Provincial Grand Lodge Eric was appointed Past Provincial Deputy Grand Superintendent of Works in 2005.
Eric was exalted into Chapter of Fortitude No 281 on 4 April 1995 and was installed as first principal in December 2000. He served as chapter charity steward from 2011 for 12 years of dedicated service. In Provincial Grand Chapter, Eric was appointed Past Provincial Assistant Grand Director of Ceremonies in 2008. He was promoted to Past Provincial Assistant Grand Sojourner in 2015 and promoted again in 2021 to Past Provincial Grand Sword Bearer.