Eric Ashcroft was installed into the WM's chair of Rufford Lodge No 7217 at the Park Hall Hotel, Charnock Richard, by WM Robert Midgley.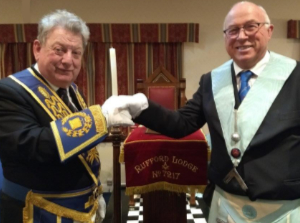 The lodge was honoured by the presence of Ian Gee as the representative of the Provincial Grand Master Tony Harrison. He was accompanied by the Ormskirk and Bootle Group Vice Chairman Malcolm Alexander and grand officers Brian Fairhurst, Tom Norris, Ron Elliott and Stan Rigby.
The ceremony commenced with the presenting officer Alan Burgess presenting Eric Ashcroft, with Robert Midgley then installing Eric into the chair of King Solomon according to ancient custom, in a very enjoyable and moving ceremony. The working tools were presented in an excellent manner by brethren of the lodge; the third degree by Alan Burgess, second degree by Brian Southworth and first degree by John Lewis.
During the investiture of the officers of lodge, the address to the deacons was given by Gary Norris and the address to the stewards was given by Alan Burgess. The address to the WM was presented by Derek Midgley, the address to the wardens by David Rawcliffe and the address to the brethren of the lodge by Ian Gee.
In bringing greetings from the Provincial Grand Master, Ian congratulated the lodge members who had taken part in the ceremony, giving special thanks to Brian Southworth and the junior brethren who had presented the working tools so well.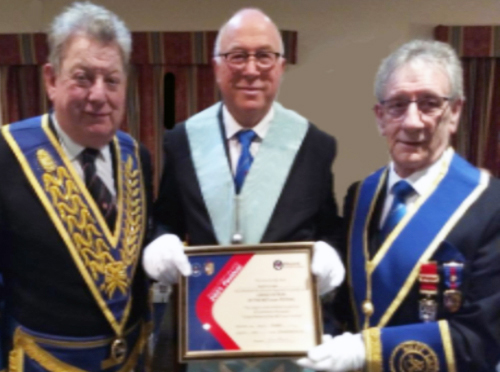 Ian was then presented with four cheques in the total sum of £2,200. These cheques were to the benefit of the MCF 2021 Festival £1500, the St Catherine's Hospice £300, Rufford Defibrillator Appeal £300 and the Friends of Tithebarn £100. Ian thanked the brethren on behalf of the future recipients who would benefit from their kind generosity.
A Grand Patron Certificate of the MCF 2021 Festival was then presented to the lodge by Malcolm Sandywell the group festival representative.
Following the meeting an excellent festive board was enjoyed by all the brethren, which was followed by the usual Rufford tradition of an auction of pot plants, which raised £125 and the raffle raised £254, together the magnificent sum of £379 was raised and will be donated to Masonic and non-Masonic charities at a later date.