Eric Drinkwater of Old Masonians West Lancashire Chapter No 7702 celebrated 50 years in the Royal Arch at Warrington Masonic Hall. The chapter was honoured to have a great turnout for the evening, 80 guests were in attendance for Eric's special evening in the presence of Assistant to the Provincial Grand Principals Colin Rowling, Assistant to the Provincial Grand Principals Malcolm Alexander, Phil Gunning along with the Warrington Group Chairman Andy Barton and other distinguished guests.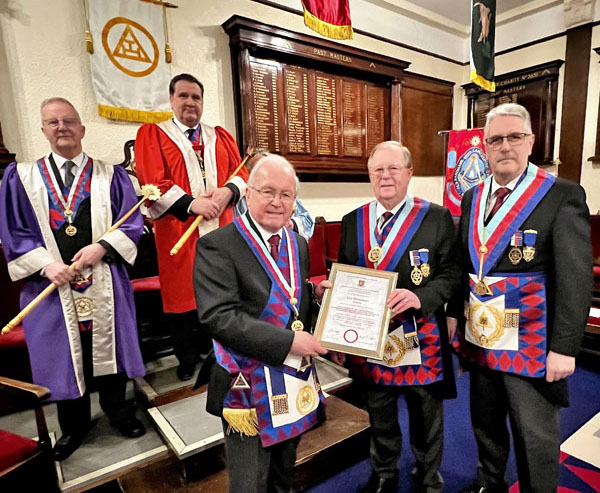 Colin Rowling delivered a wonderfully fitting tribute to Eric and after addressing Eric and the companions, Colin began by saying: "May I thank you all for allowing me to share with you this 50th jubilee celebration in the Royal Arch? I feel honoured to do this, especially when I see those who are not only here to support Eric, but who have contributed to the development of this very successful, busy man's life.
To help Eric enjoy this presentation I will punctuate my words with a little light music. You may sing along if you feel inclined to do so!  Here's the first: 'That Old Black Magic'. That Old Black Magic was seven in the May 1943 pop chart.
That was the very first recording of That Old Black Magic by Glenn Miller and this marks the day when, in May 1943, young Eric was born to Joseph Edwin and Mary Drinkwater at Bostock Street, in Warrington, during the same week as Michael Palin, he of Monty Python fame. Eric was the middle child of three, your elder brother Eddie was five years older than you and your sister Gwen was five years younger. Your father Joseph at the time was involved in wartime Government basket work and your mother worked for a time at Crosfields. Your local area could hardly be called salubrious; times were hard but, two days after you were born, the German army in North Africa surrendered to the British and Americans.  World War II continued for two more years until the Japanese surrendered.
You started school life at St Barnabas CE Primary School, which again was very close to your home, the new building now being on Collin Street. You then moved to Evelyn Street Senior School, probably 15 minutes' walk away from home, where your education continued until you were 15 years old.
The early years are the most crucial ones. It is when they learn most rapidly and where their learning and experiences form the person that they are and the one they will grow into. Aristotle said: "Give me a child until he is seven and I will show you the man". Churchill, writing in his book 'My Early Life', said: "You will make all kinds of mistakes; but as long as you are generous and true and also fierce, you cannot hurt the world." I would suggest that that is certainly true of Eric, whose early years were spent in a robust, safe community with a positive work ethic, clear morals and care for others. I guess that his outlook was hugely shaped by these factors and led to his successes in life.
Whilst at school, you loved playing cricket and boxing and boxed in the school championships. You were made Evelyn Street School Head Boy in your last year. During that year, after school and on Saturdays, you worked in George Rutland's butcher's shop. You learned how to bone meat, make sausages, serve in the shop and how to keep the wooden blocks immaculately clean.
On leaving school, you became an apprentice motor engineer at Garlands, a well-known BMC and Jaguar distributorship in Warrington. Your manager at that time was your uncle Arthur, your father's brother. You attended Long Lane Technical College, now known as Warrington and Vale Royal College and also Palmyra Square College, literally yards away from here, on day release for two years, where you obtained your Mechanical Engineering qualifications.
By now your entrepreneurial business acumen was emerging as you had established a small garage in Howley, not far from where you lived with your parents. You went for an interview with A&B Motors in Newton-le-Willows to see if you could get a job there on Friday, and they started you the following Monday. This was also a BMC distributorship and service garage, but it also had a Rolls Royce distributorship. You were given the job of fitting a new clutch in a Morris 1000 and a new lathe shaft in the gearbox, but when you came back from road testing the car, you were chastised by the manager for working too fast and told to slow down and lose yourself for the rest of the day.
At the age of 19 and after 12 months at A&B, you decided it was time to concentrate on working for yourself and set up a garage called D&E Motors. A&B asked you to stay on for a couple of months, which became six months. They also said if it did not work out, you could start back anytime. You not only managed to get accreditation for MOT certification which proved to be very profitable but also did work for local companies, AA and RAC 24-hour breakdowns and also insurance work for accidents and repairs.
One of your best friends often used to visit you at the garage, but at one of these visits in mid-summer, he drove up in a Triumph TR4 sports car, with the hood down, wearing sunglasses and with a very attractive girl next to him, she also with sunglasses and a scarf, both 'posing'!  He introduced you to her and the next time he came round he was by himself. He said he was working down south for three months and asked you to look after his girlfriend whilst he was away! You have been looking after the lovely Tegwen ever since!!
Tegwen had worked for her father, a Chartered Accountant, for several years, and not wanting to miss an opportunity, you thought this would be someone to do your accounts and invoices! Tegwen's father was a member of Ashmole Lodge No 5128 and her grandfather and uncle were members of Warrington Lodge No 6987, together with a few more Welsh relatives. So, it was not long after you and Tegwen started courting that you were introduced to Ladies' Evenings.
You and Tegwen, a native of Caernarvon, were married on 7 January 1967 in St Paul's Church, Warrington, on the corner of Bewsey Street and Arthur Street, where Tegwen was baptised, the church has sadly since been demolished and now a retirement complex has been built on the site. At the time this was number two in the charts: 'All You Need is Love' All You Need is Love, was number two in the January 1967 pop chart.
Tegwen was working in the wages department at Laporte Chemicals, but later she came to D&E Motors to do the wages and accounts and now living in Lymm and just as your first daughter Kate, was about to be born, the council wanted the land where your garage was, and closed you down. Although traumatic at the time, it turned out to be the best thing that could have happened as there followed a series of business opportunities to rival Alan Sugar!! The similarities don't end there either as you were also a very early adopter of computers.
You opened a number of motor spares and accessories shops and warehouses. You operated a delivery service to local garages and opened large shops further afield. At this time a bank manager actually came to you to offer you a loan to expand your businesses and you later became good friends.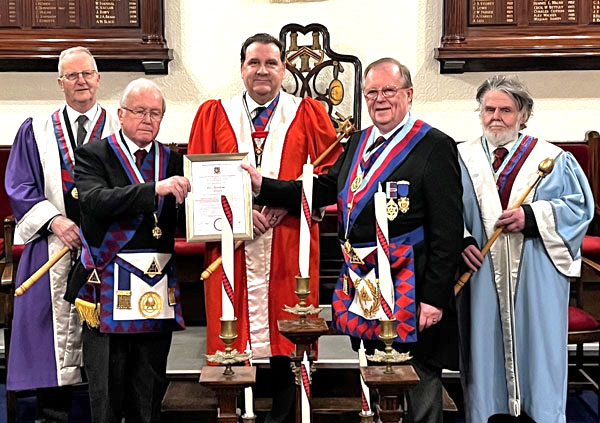 With your brother Eddie you set up a new company, Alchem, an electrical contracting company. Eddie had contacts in ICI, Warwick Chemicals, Chloride, Lever Brothers and Laportes, and you were able to obtain contracts with them. It was then you decided to open an engineering company, Hutchinson Engineering Limited. These two companies worked side by side, with the engineering company supplying the steelwork and fabrication, and Alchem the electrical and instrumentation work.  They worked on many chemical plants, all over Britain. By now you were giving at least 200 people employment to say nothing of the jobs created by your suppliers.
As they grew, the companies re-located into premises of some 20,000sq feet opposite your original warehouse. The company then deviated into the telecoms side and a new company, CSL was formed. Hutchinson Engineering designed and manufactured mobile phone towers for most of the mobile network companies, across the UK and Ireland, whilst CSL erected and installed them.
Turning now to your family. By this time, you also had another daughter, Sara Louise, a sister for Rebekah Kate, and you lived in Walton, Warrington, on the other side of the Manchester Ship Canal, and the whole family spent many happy times in your chalet, on the Warren, Abersoch, on the Llyn Peninsula in North Wales, sailing, windsurfing, water skiing and fishing.
Thinking about an appropriate piece of music for this aspect, Tegwen suggested the Welsh National Anthem or any harp music, but there was only one song to play: 'Ar Lan y Môr' ('Beside the Sea'), recorded by Bryn Terfel in 2000, this song speaks of his affection for his true love, Elin
Your daughters still count sailing as one of their main outdoor activities. Sara also enjoys running half marathons, with her husband Tim, a sport you have never taken up!!  Tegwen enters the 'Race for Life' every year, but that is only 5k, which she says is enough for her!
Since moving to your farm on the outskirts of Chester, you have immersed yourselves in village life, becoming members of the local church, St Edith's, Shocklach, a very small Norman church with no running water or sewerage! You've acted as a sidesman and read lessons, whilst Tegwen serves on the church PCC.
You are very proud of your family and rightly so, both daughters now being married with children. Kate is a solicitor in Manchester and Sara is a medical consultant in immunology at Manchester Royal Infirmary. They both have two children; Kate has Henry 14 and Tilly 10 and Sara has Charlie seven and Oliver five. You say that that is quite enough grandchildren for you! You are known as Taid, Welsh for grandpa, and Tegwen is known as Nain, Welsh for granny. They all live within easy travelling distance, so you see a lot of them, Tegwen more than you, especially for babysitting! You say that Henry especially is a 'mini you', but not so much mini these days at just under six feet tall! You both enjoy going out on the tractors, the JCB and other farm equipment around your 120 acres. When the other grandchildren see this, they also want to go with Taid!  Henry has enjoyed clay shooting at your house, also does a little beating, and has learned, from you via George Rutland's tuition, how to pluck and clean out game birds. He also plays rugby for Lymm RUFC and has been chosen for training and trials for the 'Pathway' at Sale Sharks. Although very proud of him, you still worry about him in scrums! I know that feeling well!
Now, you have always been interested in flying and in February 1972 you had your first lesson at Liverpool Flying School. You were taught in a Cherokee, but after several lessons, due to the pressure of work, you decided not to pursue it. Harking back to 1943 this song seems appropriate! 'Comin' in on a Wing and a Prayer' by The Song Spinners. Comin´ In on A Wing and A Prayer was at number 14 in 1943 in the pop charts.
As you believed helicopters would be much more practical to land you decided to build your own helicopter, a Rotor way.  Building it counted towards the 40 hours needed to be spent with the distributor in the UK. However, you sold it before it was actually finished, much to Tegwen's relief!
In May 1994 and for a birthday present, Tegwen and your daughters bought you a flying lesson in an Enstrom helicopter, at Manchester Helicopter Centre, Barton Airfield. To say you were 'hooked' is an understatement and straight away you signed up for more lessons at the flying school and this was where you bought your Enstrom 280FX, but of course, you then had to build a hangar at the back of your house! You obtained your private pilot licence for helicopters in 1997 and bought a JetRanger B3 helicopter from Canada and applied to the Civil Aviation Authority for the call sign G-TEGS.
Eric, you have contributed much to Masonry in general and certainly, in your 50 years in the Royal Arch you have given up your valuable time.  You have served your community and your church well.  Consequently, Eric, I have not been surprised by what others have said about you. Hard worker, industrious, expeditious, loyal, caring and generous. Another pointed out your fierceness when necessary!
You became a Freemason in 1969 when this song was in the charts: 'He ain't heavy, he's my Brother' peaked at number 3 in the UK Singles Chart in 1969 and features Elton John on piano. Proposed by your father-in-law, Elvet Williams, you were initiated in Ashmole Lodge in April 1969, master in 1977 and again in 2007. You were appointed ProvGStwd in May 1986, joined Mersey Valley Lodge of Installed Masters No 9057  in September 1986 and after a series of Provincial promotions you were awarded the extremely high and rare rank of PPSGW in April 2017.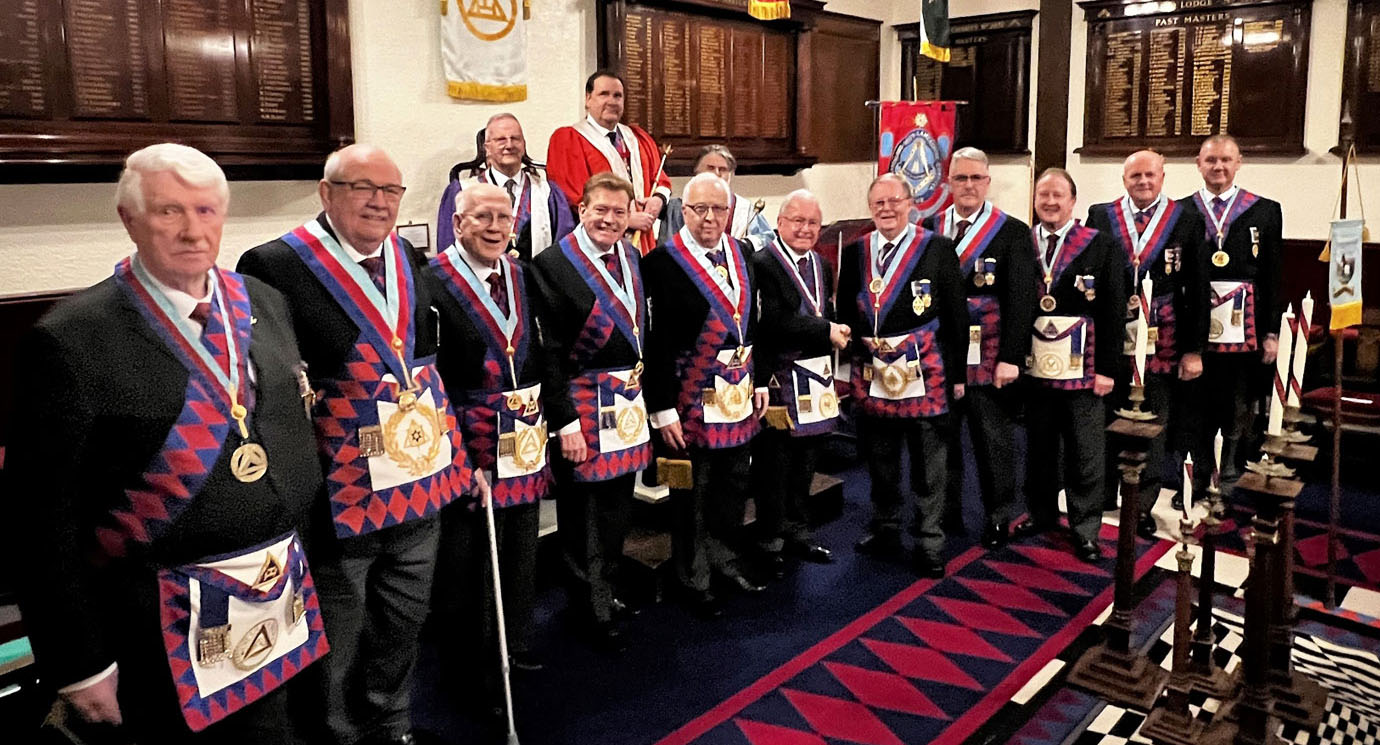 In the Royal Arch, you were exalted in Chapter of Friendship No 2963 in February 1973, just four years after your exaltation, attained the first principals chair in 1981. You were DC for many years, and with others, you wrote a ritual specific to that chapter so that every member was using the same one, a rare accomplishment as I have witnessed so many times!  You were appointed ProvGStwd in May 1987 and the same year joined the Provincial Stewards' Chapter of West Lancashire No 8516.
Unfortunately, the Chapter of Friendship surrendered its warrant in March 2006 and you then joined Old Masonians Chapter West Lancashire No 7702 in November 2008. You were also a member of Chapter of Perseverance No 155 for five years. In May 1991 you were promoted to Past Provincial Principal Grand Sojourner and in April 2012 you were promoted to the very high rank of PPGSN.
During your time as a Freemason, you have been a member of several other Masonic Orders and have achieved high rank in  them. You became the Chairman of Warrington Masonic Hall in March 2009 for 11 years, leaving so that someone younger could have a chance to take over.
Up until last year, together with Tegwen and a couple of your friends, you took over the arrangement and running of the New Year's Eve Ball. This 'black tie and sparkly evening dress' event have been a huge success, with all profits going to help this superb Masonic Hall.
Eric, I am sure you have derived a great deal of pleasure and enjoyment from all that you have done, and it is a great honour and privilege to say thank you and congratulate you on achieving 50 years as a Royal Arch Freemason. I am sure we all look forward to seeing you enjoy many more years as a member of this great organisation.
I would now be grateful if Andy Barton, the group chairman would assist me by reading the jubilee certificate." Following this, Colin presented Eric with his certificate.
Article and photographs by Colin Rowling and Neil Thomas.