The members and guests of Astley and Ellesmere Lodge No 730 gathered at Chorley Masonic Hall to celebrate Eric Croasdale's 50-year anniversary of his initiation. They were joined by the Assistant Provincial Grand Master Peter Lockett to celebrate the occasion.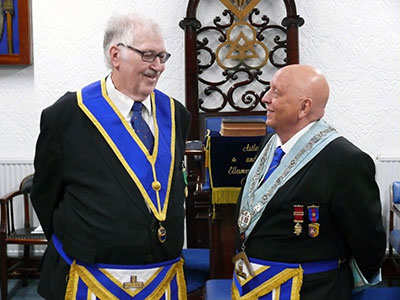 When proposing Eric's health at the social board, Eric Kos told the members and guests that to claim 50 years commitment to anything these days is a wonderful achievement. He said that most people would associate a 50 years celebration with marriage, age or a job. Few, other than Masons, would associate 50 years as a member of a club. Freemasonry is a special kind of club, but a club non-the-less. He went on to say that it's a choice, not a requirement to be a member. We choose to join and continue our Masonry; no one forces us and crucially we can give it up any time for any reason and there is no reprisal.
He continued to say that as he thought about this and particularly the commitment it takes to continue, year after year, through the good times and the bad, he was sure that Eric, like the rest of us have over the years, had cause to question the sensibility and validity of that commitment that we all have in common. He thought about the number of brethren who didn't make it and the reasons why after many years, decades in fact, they give it all up. With the pressures outside of Freemasonry, all the trials and tribulations of juggling family, home and job life with this desire to keep coming month after month to meet up with our likeminded brothers, it began to amaze him that anyone makes the 50-year milestone, when so many Masons don't.
Eric Kos concluded by saying that we should have great admiration and respect for all Freemasons that have made this milestone but more specifically for Eric Croasdale, the celebrant for his particular achievement of this magnificent milestone.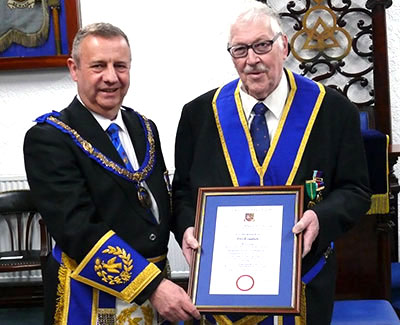 Earlier during the lodge meeting, Peter took the chair and told the members and their guests that they had been summoned to a very special meeting to honour and pay tribute to one who has served the Craft, loyally and faithfully for 50 years,
He went on to relate the highlights of Eric's personal and Masonic life, saying that the story started on 6 July at Chorley Hospital where his mother Dorothy Croasdale gave birth to a son to be named Eric. He joined an older brother Ken, born seven years earlier and his sister Heather. Heather ran a business on Chorley Market in the clothing industry. Sadly, his brother Ken died some 17 years ago.
Peter said that Eric's mother Dorothy was a weaver, working in a local firm before becoming a stall holder on Chorley Market. He went to Hollinshead Street School from the age of five until leaving aged 15 to start work in the building industry. He attended Wigan Technical College, as many did in those days, as an apprentice. He specialised in joinery and was employed by J W Lees of Chorley.
After time with J W Lees, he worked for St. Helens Council and trained to be a surveyor, studying one day a week for his HNC qualification. He went on to be a local Government Officer for Manchester Corporation in the late 1960's and also worked for Holland Annonn & Cubits, known as 'Cubits'.
He then took a position as assistant manager for Burnley Direct Works Department and in this role worked on large projects constructing many new builds for the Council. He also undertook a lot of refurbishment work. It was whilst employed here that he worked with UPVC and saw an opportunity emerging. Rather than work for the Council he set up his own business, Chorley UPVC. He still keeps his hands in today but the day to day running of the company is now done by his son Simon.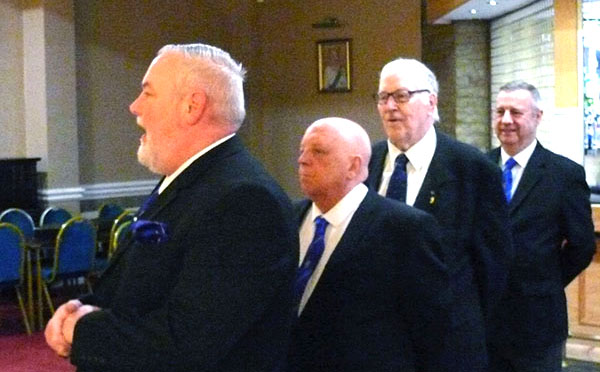 Peter then turned to Eric's family and told everyone that Eric married Barbara Anne at the Parish Church, St Lawrence's, Chorley on 16 July 1960. He has two sons, one who joined Eric in the business in Chorley, the other, a wine merchant in Hong Kong. He also has two grandchildren, Summer aged 19, a student at Edinburgh and Josh, in his 20s who completed a degree at Huddersfield and now works for Chorley Council in IT on records relating to old people's houses.
Sadly, Eric's wife Barbara passed away in October 2021 during the pandemic. She had worked in a solicitor's office in Chorley, had a spell in the CID Admin Department and then left the police and bought her own shop on Pall Mall in Chorley.
Turning to Eric's Masonic history, Peter said that Eric was introduced to the idea of Freemasonry by his grandfather Stephen Croasdale, an insurance broker with offices near Chorley Police Station. He applied to join Chorley Lodge No 6287 on 28 August 1968 and, after the customary waiting period, often the case in those days, he was proposed into Chorley Lodge by Brian Ditchfield and seconded by Tom Rutter, the manager of Chorley Building Society. He was one of four candidates who joined around that time and was one of the first four initiates at Chorley Masonic Hall on Cunliffe Street.
He was initiated into Chorley Lodge on 5 January 1971. Having progressed through the floor offices he was installed as master on 4 November 1986. He joined the Phoenix Lodge of Installed Masters No 9206 on 20 October 1995, eventually resigning in 1999. He was honoured by the Province in 1996 when he was appointed Past Provincial Assistant Grand Superintendent of Works. He was exalted into Westhoughton Chapter No 4215 on 26 January 1993 and served as first principal in 2001-2002. He was honoured by the Province in April 2009, when he was appointed Past Provincial Assistant Grand Director of Ceremonies.
Peter then presented Eric with a certificate acknowledging the Province of West Lancashire's great appreciation of Eric's half century of membership of the Craft.