A significant landmark was marked at Park Hall, Charnock Richard, when Eric Sutton of Rufford Lodge No 7217 celebrated 60 years in Freemasonry. The celebrations were led by Assistant Provincial Grand Master Frank Umbers. Also in attendance were grand officer Brian Fairhurst and Ormskirk and Bootle Group Vice Chairman Derek Midgley.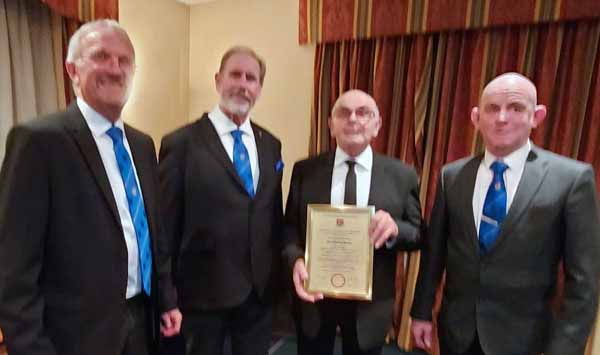 During the ceremony Frank described how Eric, at a young age, had started helping with the family plant nursery business and how he had gone to London to learn floristry. His entrepreneurial spirit eventually led to him owning three floristry shops.
Eric joined Rufford Lodge in 1961. He was WM twice, first in 1973 and again in 1994. He received his first Provincial appointment in 1985. Derek Midgley read out the certificate which Frank Umbers presented on behalf of the Provincial Grand Master Tony Harrison.
Frank Umbers then appointed and invested Eric with his supernumerary celebration rank of Past Provincial Junior Grand Warden. In closing his presentation, Frank congratulated Eric on all his achievements and received enthusiastic applause from the brethren in response.
At the festive board, Frank Umbers made a short response to the toast to his health, stating: "It was Eric's night."
The toast to the celebrant was given by his lifelong friend Brian Fairhurst. Brian said to Eric: "I have probably known you longer than anyone else alive." The pair had grown up together in Croston. They also attended the same schools.
Brian's father, also a Freemason, was headmaster of their secondary school. In reply Eric spoke of his life in general and also in Freemasonry. He thanked everyone for their support and good wishes. His response was warmly received.