On Maundy Thursday this year Enid, the wife of Peter Nutland a member of Lodge of Good Hope No 6937, was to receive the Royal Maundy from Her Majesty Queen Elizabeth II during a service at Westminster Abbey. Unfortunately, because of COVID-19 restrictions this service was unable to take place, this being only the fourth time of being cancelled during the Queen's reign.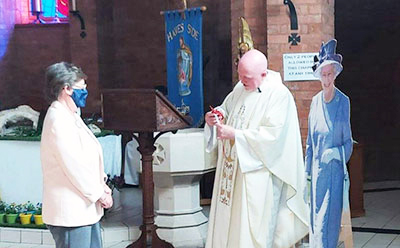 Due to the cancellation the Royal Maundy was sent by Royal Mail and a very surprised postman was asked to pose for a photo delivering it the Tuesday before. The package wasn't opened until the morning that it would have been officially received, but, unknown to Enid, Peter and her daughters, Jenny, Gillian and Julie had arranged a surprise afternoon tea party to make up for the disappointment of not going to London.
On arriving at her daughter's house, she was greeted by the Queen (a cardboard cut-out) in a garden festooned with Union Jacks and had a really enjoyable afternoon to celebrate – not quite the solemn occasion it should have been but just as memorable.
Royal Maundy consists of two purses, one white containing Maundy coins; silver pennies, two-pence's, threepences and fourpences, totalling 95 pence, corresponding to the Sovereign's age and a red purse containing the traditional sum of £5.50 as an allowance for clothing and provisions. The £5 coin commemorates her Majesty's 95th birthday and the 50p portrays the 50th anniversary of Decimal Day in 1971. This year there was also a letter from the Queen saying how sad she was that the event had been cancelled again this year due to the pandemic.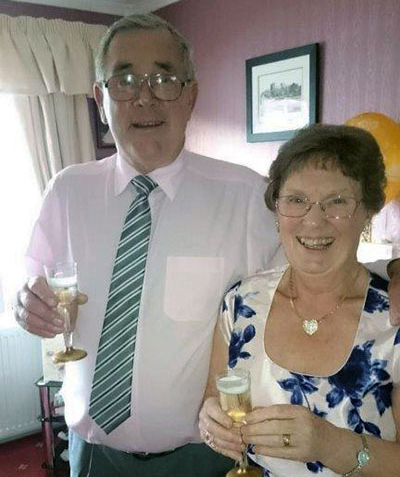 Enid was receiving the Maundy money after being nominated by the Bishop of Blackburn in recognition of her Christian work with Mothers' Union (MU), of which she has been a member for over 30 years. She was introduced to Mothers' Union by another Masonic member, Keith Sillis who was at the time her Parish priest.
She very quickly got involved and became branch secretary, branch leader, Deanery leader, literature representative, deputy president and for the past five years Diocesan President. During these years Blackburn MU have celebrated 90 years and so she set a challenge, giving each branch £9 (being 10p for each year) and telling them to use their many talents to increase it as in the Bible story.
It became quite competitive between branches and at a service in the Cathedral in November members from each branch brought forward there 'talents' which amounted to £38,000+ for an initial outlay of just over £1,000. This money was used for the purchase and upkeep of a new caravan to provide holidays for those in need and in adversity.
During the same year MU gave money to overseas in Nambala which resulted in the provision of 90 small businesses, chicken, pig and vegetable farms and beehives for members to provide for their families and friends.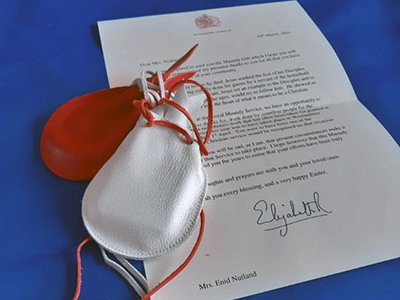 Closer to home, Mothers' Union provide baby packs for the neo-natal unit in Blackpool; many branches provide emergency toiletry bags for their local hospitals and during the pandemic they have excelled themselves making masks, PPE, scrub bags, gowns, pairs of hearts for patients and relatives and prayer squares. Members haven't been forgotten as afternoon teas and little gifts have been delivered and telephone prayer circles set up and amazingly many have discovered Zoom for meetings, coffee mornings etc.
The Arch Bishop of Canterbury always refers to Mothers' Union as the church's best kept secret but as MU is now also getting involved in looking out for signs of modern-day slavery, gender based violence, domestic abuse, etc., it is becoming more into focus, but MU is also a charity which is based on prayer first and foremost, but have lots of fun, friendship, fellowship, faith and food along the way – not all tea and cakes as everyone thinks.
It seems that Freemasonry is not the only organisation to be misunderstood or misrepresented.
Article by Enid Nutland.