Empire Chapter No 3257 was founded in 1922 in association with their mother lodge, the then Empire Lodge No 3257. The lodge itself had been consecrated in 1907 and would in 1914 become part of the Third Liverpool Group.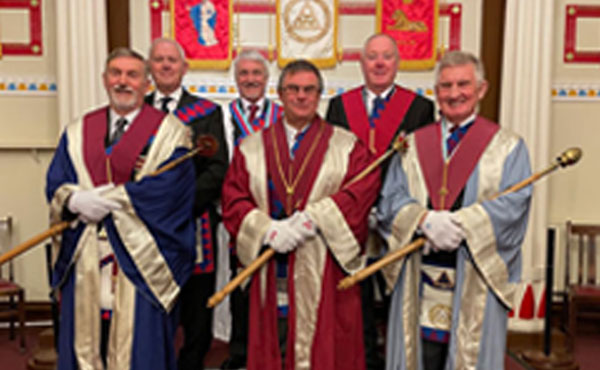 When Empire Chapter was formed, the 26 founding members are believed to all be from this one lodge then meeting at The Bears Paw on Lord Street. The centenary of the chapter it is thought matched the splendour of its consecration 100 years previous with all the pomp and ceremony the Provincial team brings, greatly enhancing the evening.
Indeed, the anticipation and energy built up so much that it triggered the fire alarm and the building had to be evacuated for a short time. On resumption the first principal John Jackson opened the proceedings ably assisted by his acting co-principals Graham Benson and Joe Williams in conducting the business agenda. Following this the Provincial Grand Director of Ceremonies Dave Thomas was admitted and announced that the Deputy Grand Superintendent Chris Butterfield was ready to enter and was accompanied by grand officers and acting Provincial grand officers.
Also in attendance for this centenary was David Potts, Past Grand Standard Bearer, now an honorary member after many years of service. On entering they were warmly received with John Jackson proffering his sceptre to Chris, which was accepted and Chris next placed his officers in their respective posts and proceeded to open Provincial Grand Chapter.
Chris expressed his gratitude to all who had served Empire Chapter, from the consecration to the centenary and continue to serve into the future. He said it was indeed an honour to preside over this centennial meeting. Rev Godfrey Hirst followed with an oration and reconsecration of the chapter. Provincial Grand Chapter was then closed with the singing of the National Anthem.
John Jackson then took his place within the chapter as first principal with his officers retaking their posts. John thanked Chris and the Provincial team for the wonderful ceremony all had just witnessed. He also thanked Chris for the kind words he had expressed regarding his father John Jackson senior, who would have been here in this position as first principal of Empire Chapter if not for his sad passing. John junior expressed his heartfelt thanks to the companions who had elected him in his father's footsteps.
John took this opportunity present a cheque in favour of the West Lancashire Freemasons' Charity for £400, which was thankfully received by Chris. On completion of the formalities David Barr stood to convey the congratulations and good wishes of the Grand Superintendent Designate Mark Matthews. He also thanked the grand and Provincial grand officers for their support, expressing admiration for the way that Karl Brennan, now the DC had performed his duties throughout.