Emlyn Jones was presented with his 50 years in Masonry certificate by Assistant Provincial Grand Master Mark Matthews and Liverpool Group Chairman David Johnson at a small presentation in his home in Ashton-in-Makerfield.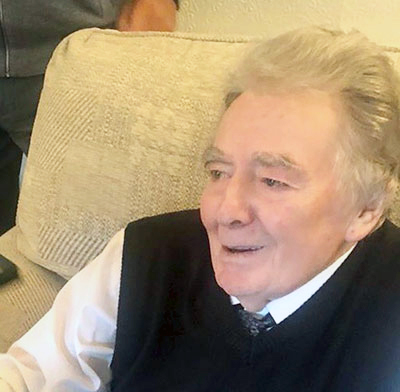 Also present were a few of his friends; fellow members of the Childwall Lodge No 5235, Eryl Edwards, John Stallard, Barry Fletcher, Tony Fennell and Ray Cooper. The certificate, which was scheduled for presentation in October 2020 had to be delayed due to the restrictions that were put in place due to COVID-19.
Emlyn has been a stalwart of the Childwall Lodge since he was proposed on 24 September 1970 by Eryl Edwards and Stan Hailwood. He was initiated the following month by the then WM Chris Milward, passed to the second or fellow craft degree on 26 November 1970 and raised as a master Mason on 28 January 1971. He received his Grand Lodge Certificate on 28 October 1971.
As previously stated, Emlyn was a stalwart of Childwall Lodge from the beginning, being installed into the chair of King Solomon on three occasions, 1980, 1998 and again in 2001. He held the office of director of ceremonies between 1999 – 2000 and again between 2005 – 2009, and supported the lodge yet again in 2012 when he took on the role of assistant director of ceremonies.
Emlyn has always been a staunch Mason, especially in respect to Childwall Lodge, and a lot of the success of the lodge is down to members such as Emlyn, along with his motto that it had to be done the 'Childwall way'. This was definitely evident during his time as director of ceremonies. His loyalty and enthusiasm were justly rewarded when he gained Provincial honours in 1991 with his appointment as Past Provincial Senior Grand Deacon and again in 1998 with promotion to Past Provincial Junior Grand Warden.
Emlyn is a proud Welshman, born in 1936 at Blaenau Ffestiniog, in what was then the county of Merioneth. At this period the town was still at the heart of the slate industry with its products forwarded on through the Ffestiniog Railway down to Porthmadog Harbour then across the globe. Once a practical working railway, it is now run as a heritage railway and it is a major draw for visitors. The railway was one of the first founded by Act of Parliament in 1832 and it is now the oldest independent railway in the world.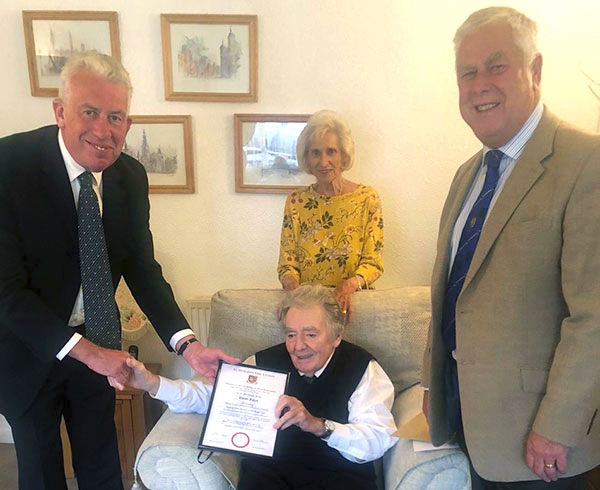 It is a narrow-gauge railway drawn by steam and runs from Blaenau Ffestiniog 13½ miles past the Tanygrisiau power station and lake, descending to Porthmadog from the mountains to sea-level, passing along a cliff-edge track and through tunnels before negotiating its route along the magnificent spiral around the lone house of Rhoslyn at Dduallt Halt, which was a 'hippy commune' in the late 1960's through to the early 70's.
From Dduallt the line heads downhill along horseshoe bends and through ingenious slopes, passing lakes and waterfalls, cutting through forest and woodland and traversing tranquil pastures, finally coming into the old harbour; all making for a wonderful playground for the local children over many decades.
In February 1954 Emlyn, then residing at Tanygrisiau, outside Blaenau Ffestiniog, received the Queens Commendation for Brave Conduct for rescuing a youth from drowning. In 1961 he married Irene and they have had over 60 wonderful years together. Unfortunately, due to recent poor health, Emlyn has not been able to attend lodge for a couple of years but has always been in their thoughts, especially when sound advice has been needed – Childwall is in his blood.