The chocolate fairy has been busy over the Easter period and Mike Cunliffe, Vice Chairman of the Woolton Group of Masons who meet at Woolton Golf Club was asked, by a source who wishes to remain anonymous, if he would like some Easter eggs for charity.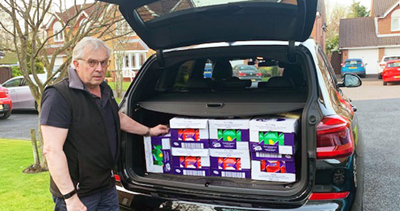 Never one to say no to such a charitable donation, Mike quickly accepted and they were duly delivered to him. So, filling the boot of his car, as time was short, being the Saturday before Easter and many foodbanks had started to close for the period, off Mike went to deliver the eggs.
Mike took the donated Easter eggs to the foodbank at Hillside High School, on Breeze Hill in Bootle, where they were thankfully received, duly distributed to the lucky recipients and were greatly devoured.