Following in the footsteps of Provincial Grand Secretary Peter Taylor, another intrepid athlete nears his challenge. Like Peter, all the money he raises will go towards the West Lancashire Freemasons' Charity for the Masonic Charitable Foundation 2021 Festival. The person in question is Adam Eeles, a member of Old Masonians West Lancashire Lodge No 7702.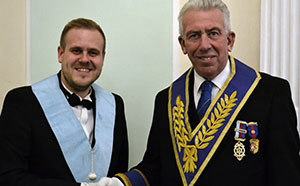 What a magnificent achievement Peter achieved in raising over £8,000 so, hopefully, Freemasons' support will again be in evidence as 'marathon man' Adam Eeles takes on the latest challenge. Adam, age 32, was thrilled to hear from the organisers of the London Marathon that he had been selected from the 1,000s who had applied to run this renowned marathon on Sunday 26 April 2020. As already mentioned, he is running in support of the MCF 2021 Festival, representing West Lancashire Freemasons – not his own lodge or even group. A fairly new member to Old Masonians West Lancashire Lodge, Adam presented and explained the working tools of a fellow craft to great effect at the previous installation ceremony. He will no doubt display that dedication and effort to the rather easier task of running a marathon.
As a member of Old Masonians, the Masonic Charitable Foundation is very close to Adam's heart. The lodge was founded in 1959 by former pupils of the Royal Masonic School for Boys who lived in the West Lancashire area. It is firmly grounded in the rich traditions of the boys' schools and the Craft while embracing the wisdom and experience of senior Masons and nurturing the enthusiasm of younger members through the mentoring scheme.
Marathon update:-
Due to COVID-19 restrictions, Adam has decided to run in the 2021 London Marathon rather that running the 2020 marathon on his own. If you have made a donation towards Adam's charity run, it will be given after Adam runs in the 2021 marathon.
For Adam's story in his own words and to offer your support follow this link: