The brethren and guests of Derby Lodge No 724 assembled in the Geoffrey Hirst Masonic Suite at Woolton Golf Club to celebrate the golden jubilee of Edward (Ted) Brown, who in December will attain the age of 99.
The WM Stephen White welcomed everyone present and asked that they assist him to open the lodge, which was done in due form and the minutes of the last meeting were confirmed and signed. Brethren who had not been able to attend the installation were invested with their ranks prior to the Provincial Deputy Grand Director of Ceremonies Jason Dell being admitted, to announce that Assistant Provincial Grand Master Kevin Poynton stood outside the door and demanded admission.
Kevin, accompanied by other grand officers and acting grand officers processed into the lodge, where the WM warmly welcomed Kevin and offered him the gavel which, as is his right, he took for the next part of the ceremony.
Having taken the chair of the lodge, Kevin thanked the WM for giving him the opportunity to occupy the chair for the next part of this evening's very important business and asked permission to allow the outer guard to tyle from inside the door of the lodge.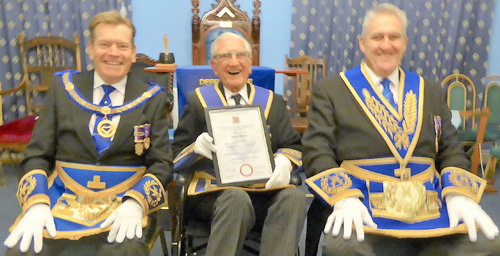 Kevin began by saying, that since 2004 when he was appointed PrDGDC in this Province, he has had the privilege of attending on numerous occasions, when a brother has celebrated a Masonic landmark. 50 years is certainly a considerable commitment and whatever we have done and achieved during those 50 years is well worth recalling and that is what he wished to do tonight for the brother for whom we have assembled to honour this evening. One of the greatest pleasures he has without doubt is to be allowed the privilege of taking part and sharing in the success story and celebration of a brother who has spent almost a lifetime in Freemasonry. 50 years is a long time to spend in any organisation, whether it be the workplace or the golf club, the Rotary or the church, but when someone reaches that considerable milestone, then it should be celebrated, but a celebration means very little unless you have someone to share it with.
Kevin asked the PrDGDC to place Edward Brown before the pedestal. After enquiring if Ted was comfortable, Kevin provided the brethren with Ted's background. He was born on Wednesday December 17th 1919, to parents James and Mary, His father worked in the Merchant Marine for Cunard White Star, mainly on Atlantic crossings at that time. Ted's first home was in Canal Street, Bootle and he attended St Mary's Church of England Elementary School in Arnot Street, also in Bootle. He passed his 11 plus exams, but sometime earlier his father, who by this time was still in the merchant marine, was in Alexandria and fell down a ships hatch, so with him being injured and thus out of work, there was no money available to buy books and uniforms etc in order to allow Ted to move to a different school.
Ted was one of six children and at the age of 13, he and his brother went out and got a paper round as the family needed all the money they could get. Ted stayed on at the school until he was 15, attaining the position as head boy. Ted was also a member of the church youth club and was always looking for work to earn money for the family. The church curate who worked at the ironmongers Messrs. D.R. Wier in Vauxhall Road, wrote a letter to his company, asking if they had any vacancies and Ted was taken on by them when he left school. He was employed as a book keeper and office boy.
In 1938 at the age of 19, Ted moved on from the ironmongers and went to work for the shipping agents Roberts & Buckley, again as a book keeper and junior cashier, added to this he was spending three nights a week at night school, something he had done since he was 15, studying various commercial subjects, but mainly accountancy. This paid dividends, as he achieved his Higher National Certificate for accountancy and in 1963 became a qualified chartered company secretary.
Ted remained with Roberts & Buckley until 1940, when he received his call up papers. By this time Herr Hitler was causing some concern over the other side of the channel, as well as elsewhere and it was his turn to serve Queen and country, so he went for his call up interview and was asked by the sergeant did he have to give any 'notice' to anyone, to which Ted replied, "well sergeant I could do with a couple of weeks to hand over to my replacement" to which the reply was, 'well you can bugger off!! the war will be over in two weeks, so you will report here at 0900 tomorrow morning"!!
Ted commenced basic training on February 20th 1940, square bashing with the Cheshire Regiment at Chester Castle, eventually being posted to the Royal Army Pay Corps (Chester Command). In August 1943, Ted was posted overseas and spent time in India and what was then Ceylon – now known as Sri-Lanka. Ted served in every NCO rank up to staff sergeant and received a commission on June 3rd 1946, being that of full lieutenant. He was discharged from the army on June 1st 1947. One of Ted's siblings (Alexander) known as Alec, joined the merchant ship Napier Star, en-route from Liverpool to New Zealand, via Panama, but on December 18th 1940, was torpedoed by the German Submarine U100. Sadly, that night with only 14 survivors, Alec was among the 71 souls that were lost.
Sometime during 1947, his pal, who was a flying officer in the Royal Air Force, informed him that he was to be married and invited Ted to be his best man. On the day of the wedding, a young lady, who was chief bridesmaid and whose name was Rene, caught his eye and after a courtship the two of them were married at St Andrews Church, Litherland in 1950.  Ted and Rene became proud parents of two girls, Barbara who lives in Liverpool and Judith who now lives in Beaconsfield, Buckinghamshire and they have been blessed with four grandchildren.
After being discharged in 1947, Ted resumed his old job at the shipping agents but the money there was so poor that very soon he had moved on to a new job at the Raw Cotton Commission as a wages officer and cashier, which lasted for nearly six years, when in July 1954 he moved again to a cotton merchants as an office manager. In March 1955, he became the wages officer with the chemical Giant ICI, who owned a metals division called Yorkshire Imperial Metals, which was situated on the East Lancs Road. 10 years later, he decided that he had had enough of being employed by others, so along with his brother-in-law Stan Whitfield, they founded their own company Whitfield and Brown, which would turn out to be a very successful building company, originally based in Garston, but then moving to Widnes and still continues today, although both of them relinquished their parts in it some time ago.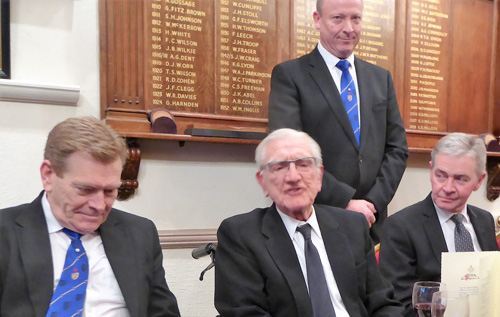 In 2008 Ted and Rene moved to Buckinghamshire. Rene became poorly and had to be taken into care for a while. Ted came across Cliveden Manor where both he and his wife moved into, but sadly after about four months Rene Passed away. His marriage had lasted for 64 years, another testament to the commitment of the man.
Ted was proposed into the Duke of Devonshire Lodge No. 6735, by his brother-in-law Stanley Whitefield and seconded by Gordon Tomlinson and initiated on the 11th October 1968.
He was installed as WM of the lodge in 1976 and afterwards took offices as secretary, assistant director of ceremonies, director of ceremonies and preceptor. In 1987 at the Provincial Grand Lodge he was appointed to the very high first rank of Past Provincial Senior Grand Deacon, in October 1993 he was promoted to the rank of Past Provincial Junior Grand Warden and from 1988-1999 became the representative of Friends of Tithebarn for the then 4th Liverpool Group.
From 1997 to 2010, Ted acted as financial secretary to the trustees of the West Lancashire Alpass Benevolent Fund, liaising with stock brokers, arranging meetings of the trustees and stockbrokers, as well as recording and furnishing the minutes. In October 1999 he was promoted to the rank of Past Provincial Senior Grand Warden.
Ted was exalted into City Chapter No 2514 on 13th April, 1981 and Installed as first principal on September 15th 1988, after which he took the office of ADC and then DC. He was appointed to the very high rank of Past Grand Sword Bearer in 1996 and has since enjoyed the privilege of honorary membership of that chapter.
In conclusion, Kevin said that "it is your 50 years in the Craft that we are celebrating this evening and to that extent our Provincial Grand Master has caused a commemorative certificate to be produced to mark this wonderful occasion, which I shall now ask our group chairman to read".
Andy Whittle read the certificate, which Kevin then presented to Ted, with great acclaim from the brethren.
Kevin asked the WM to resume his seat. After communications from Grand Lodge had been received, Jason Dell formed the procession to retire. The lodge was closed in normal manner and the brethren retired to the dining room so that the festivities could continue.
John Smith, a very dear friend of Ted's and who had followed him into the chair in 1977, proposed the toast to Ted. Ted replied in a sharp humorous manner saying that he was grateful to Kevin and other officers for all their kindness. Andrew Whittle then presented Ted with a signed card from the executive.
The celebrations drew to a close with Tommy Lunt, tyler of the lodge, providing the final toast.
Article and pictures by Colin Roberts.