Eddie Parkinson was installed as WM of Great Eccleston Lodge No 8895 in the presence of Past Assistant Grand Registrar John Lee, who was the representative of Deputy Provincial Grand Master in Charge Philip Gunning.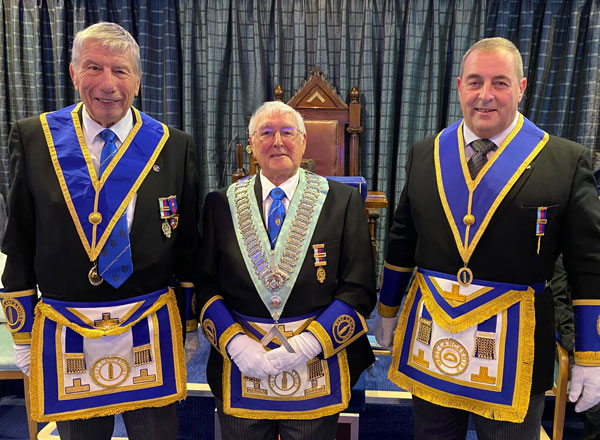 John was accompanied by grand officers Philip Gardner, Jim Wilson and Chairman of the Lancaster Group Neil McGill. Lancaster Group Vice Chairman Scott Devine was also present.
At his installation ceremony, Eddie was presented by Michael Dickinson from Wyre Lodge No 7704, a long-standing friend of the WM. The ceremony was conducted by Scott Devine as unfortunately neither the current WM David Sawyer nor the Immediate Past Master David Rhodes were available to attend due to illness. The installing officers were; senior warden Bill Richmond, junior warden David Kirkham and inner guard Robert Whittingham.
Presentation of the third degree working tools was given by John Nelson, the second degree working tools were presented by Tom Alberts and first degree working tools were presented by Ernie Hughes.
The WM appointed David Kirkham as senior warden and Chris Sudall who was not present, as junior warden to be invested at a later date. On completion of the installation ceremony, the installing master Scott Devine presented John Lee with a £500 donation to North West Blood Bikes.
Giving the address to the master was Michael Dickinson, the address to the wardens was given by Graham Davies and the address to the brethren of Great Eccleston Lodge was given by John Lee.
Playing the organ on the evening was David Tattersall and the master's song was performed by George Fox. A total of 43 brethren attended the festive board and the raffle raised £205, plus £60 from the master's swindle. The toast to the WM was given by Scott Devine.
WM Eddie is a local man and has spent his working life in farming. He was initiated into Wyreside Lodge No 2605 on 17 March 1969 and was the first joining member of St Michaels on Wyre Lodge No 8348 in 1971. Eddie was WM of St Michaels on Wyre Lodge in 1978 and 1998 and was the founding senior warden of Great Eccleston Lodge in January 1980 and WM in November that year.

Eddie was director of ceremonies of both St Michaels on Wyre Lodge and Great Eccleston Lodge for many years. Eddie received his first appointment as Acting Provincial Grand Standard Bearer in 1985 and promotion to Past Provincial Senior Grand Deacon in 1986 and Past Provincial Junior Grand Warden in 1994.
In Royal Arch, Eddie was appointed Past Provincial Grand Sojourner in 1989. In 2003 Eddie resigned from Freemasonry for health reasons, re-joining Great Eccleston Lodge and Great Eccleston Chapter No 8895 in 2021 and St Michaels on Wyre Lodge in 2022.