Lathom Abbey Lodge No 6286 celebrated over 50 years of service to Freemasonry by Edward Durr in the Province of West Lancashire. Present at the ceremony was Frank Umbers Assistant Provincial Grand Master, who was accompanied by Graham Chambers the Ormskirk and Bootle Group Chairman.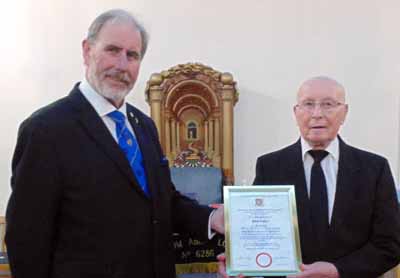 In 1948, aged 15, Eddie secured an apprenticeship in industrial plumbing, working at ICI. Then in 1954 national service beckoned and Eddie was called up, joining the Royal Corp of Signals. After basic training and telecommunications training Eddie was sent to Egypt, during the Suez Canal crisis.  Various postings in Germany followed before he left the army in 1956.
He met the love of his life, Jean, in 1949 and they married in 1956. They were together for 70 wonderful years until she very sadly died in 2019, leaving him with many happy memories to cherish of their life together. In 1970, Eddie and his brother John started the Heat-All Domestic Plumbing Company, fitting the newly popular central heating systems and Eddie continued in business until his retirement aged 73.
His career in Masonry began on 3 December 1970 when he joined Lathom Abbey Lodge, which unusually happened to be their Christmas social night, where Eddie won a brace of pheasants. He rapidly progressed and nine years later became the master of his Lodge, receiving his first Provincial appointment in 1989.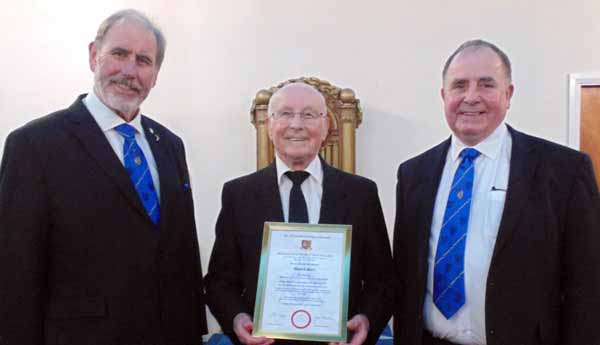 As a member of the fund-raising committee, Eddie helped to raise funds through socials, raffles, and other activities to repay the loan used to purchase the Masonic hall in the 60s. As hall chairman, he channelled a lot of his energy into looking after the hall for the benefit and well-being of the membership. His expertise and management skills proved invaluable during this time.
For his continued service to his lodge, his hard work and selfless commitment to Ormskirk Masonic Hall and Masonry in general, in October 1997 Eddie attended the Provincial Grand Lodge meeting held in Blackpool to receive his justly deserved promotion, to the rank of Past Provincial Junior Grand Warden.
He also received his first appointment in Provincial Grand Chapter in 1992, to acting Provincial Grand Steward. He went on to receive a promotion to that of Past Provincial Grand Sojourner in May 1996 and some eight years later in 2004 he received a further promotion to the very high rank he holds today, that of Past Provincial Grand Scribe Nehemiah.
We wish Eddie many more happy years in Freemasonry.