It is with great pleasure that the Eccles Group is supporting the West Lancashire Food Bank Appeal by collecting food, toiletries and gifts which are being brought into the collection centre at Elm Bank with support from all the Eccles Group of Masonic lodges.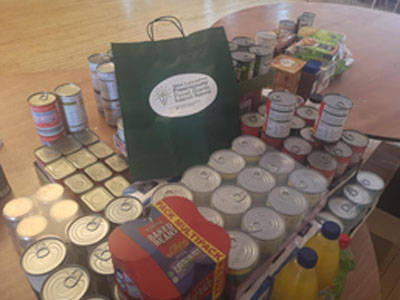 On the first Saturday morning opening Eccles Masons were busy dropping off their donations ready to be distributed to local foodbanks in the Provincial carrier bags. There are more and more gifts and supplies arriving daily and you can still help by donating if you haven't already done so.
The collections are being arranged and led by Mike Brindle and Paul Heathcote; this is an opportunity to give many of the items we take for granted in our day to day lives.
All this has been set up in a very short time period and every group in the Province has been tasked with setting up a foodbank collection. In early November the Provincial Grand Master Tony Harrison launched the Province of West Lancashire Freemasons' Food Bank Support Appeal.
Each group in the Province has been requested to appoint a group coordinator in support of the appeal for the donation, collection and storage of non-perishable food, toiletries and other essential products, in addition to Christmas gifts for children.
Collections are taking place over a three-week period throughout November. Donations will be presented to the local foodbanks in the area of each group during the weekend of 12 December.