Double initiation, passing and raising ceremonies aren't so unfamiliar as to cause a stir at lodge meetings, but a double 50th jubilee ceremony is a different matter altogether. The scene for Quadrant Lodge No 8044 for just such an event was at the St Annes Palace Masonic Hall, where Roger Perry and John Hayfield were to celebrate 50 years in Freemasonry, with WM Jason Emsley opening the lodge and Assistant Provincial Grand Master Duncan Smith presiding over the celebration.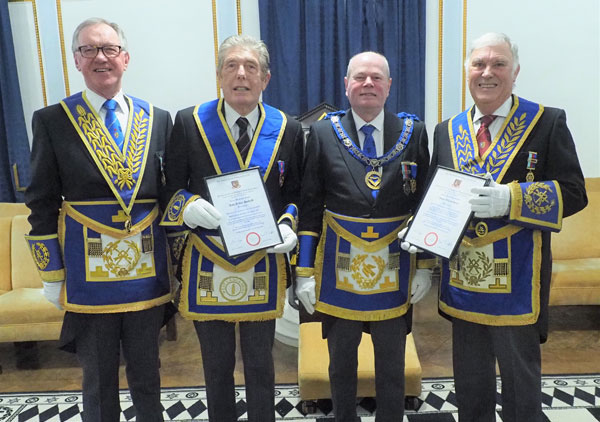 Now Duncan has presided over several 50th and 60th celebrations, but this was his first double, however, he handled this one admirably. Swapping from one celebrant to another he told the story of their lives inside and outside of Freemasonry.
The audience discovered that Roger Perry was born in Erdington, Birmingham, in 1945. His father, having run a paint business, had been one of the original members of the flying corps and had gone onto become the Chief Superintendent of the Vickers Spitfire factory during World War II and had also been in charge of building Lancaster Bombers.
Roger hated school but did enjoy playing chess and played for the school team. He did however, enjoy the scouts and sea scouts, which probably prepared him for leadership in later life. His first job was as a trainee manager with the famous Woolworths chain of shops. This lasted three years before Roger followed a friend into a drugs distribution company, managed by that friend's father. This company was taken over by British Drug Houses and that later amalgamated with Evans Medical to form the company called Vestic.
As a result of the amalgamation, Roger was offered a job in Preston as a local representative developing business with local chemists. Roger must have been good at his job as he found himself being promoted to Regional Manager responsible for training representatives in the North West of England. Following this, Roger went onto work for a firm called Kirby Warwick, selling drugs to GPs and hospitals. That firm was later taken over by Merk, Sharp and Dohme, where Roger continued to work until he retired. After which he was able to spend more time with his wife, Hilary, and their family.
Roger and Hilary met at a social event in 1963 and were married four years later. They have two children; Adam who works in the pharmaceutical industry and has two daughters; and Rachel, who is a school teacher, who has yet another daughter.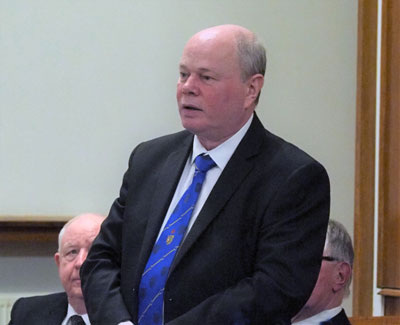 Being proposed into Freemasonry by Peter Walker, Roger joined Kilgrimmol Lodge No 6851. When Kilgrimmol Lodge along with Aemulantes Lodge No 8827 amalgamated with Quadrant Lodge, Roger became a valuable member of the latter. He was installed as WM in 1978, during which he had a successful ladies evening which was thoroughly enjoyed by Hilary. Roger occupied the chair on two further occasions in Kilgrimmol Lodge as well as being director of ceremonies, followed by charity steward. During this period he was also a founder member of Aemulantes Lodge and secretary of that lodge for eight years.
During this time, Roger somehow found the time to attend the Fylde Group Lodge of Instruction No 65, where he served as a preceptor for three years. Needless to say, Roger was rewarded for his work by the very high rank of Past Provincial Junior Grand Warden, followed by Past Assistant Grand Director of Ceremonies. Roger has also achieved grand rank in Royal Arch, having first been a Provincial Grand Steward, then Provincial Grand Scribe Nehemiah. He also has the distinction of being a past first principal of the Senatores Chapter of Installed First Principals No 8966. Roger is also a member of another Masonic Order.
John Hayfield hails from Manchester originally. The son of a World War II flight sergeant who went on to be a draughtsman with Mather and Platt. The family moved to St Annes following the early demise of his grandfather, who was a coalman. John's parents then decided to open a general store and his mother qualified as a sub-postmistress and they soon added a post office to the business premises.
The move to St Annes necessitated John moving from primary school in Manchester to one in St Annes two years into his school life. He then progressed onto Ansdell County High School. John says he wasn't much into education, yet he still managed to pass eight O Levels. His disinterest in school meant that he eschewed the opportunity to go and achieve A Level success, deciding to take up a job at the local town hall instead.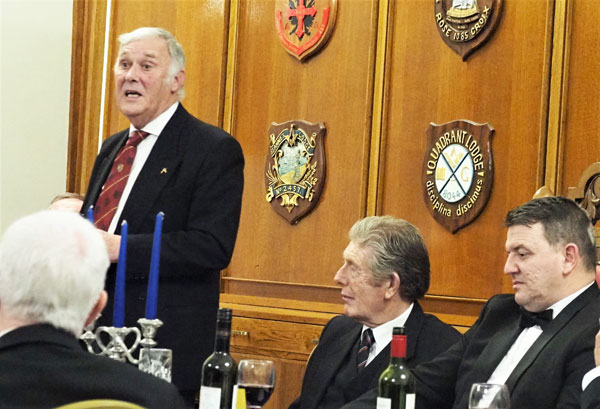 During his period at the town hall, John began to see the error of his decision not to proceed with further education and managed to obtain day release to attend Wigan Mining and Technical College. This led to his moving onto Portsmouth where he achieved a Bachelor of Science degree in civil engineering, then further enhancing his education by training as a draughtsman with British Gas. He progressed from here to be a trainee municipal engineer at St Annes. Not bad for a lad who 'wasn't much into education!'
With his training and experience in civil engineering, John went on to form a private construction company with his friend Brian Newman. He eventually sold up his share in this company in 2006 but stayed on for another year as managing director before retiring in 2007. During this time John met his wife Jill and they have two daughters.
His eldest daughter, Katie, has a psychology degree but is changing direction as she is presently at university studying acupuncture. His daughter Lucie works for the YMCA. It seems that education now runs in the family, as does Freemasonry since his father and grandfather were both Masons. They were both members of Doric Lodge No 3622.
John joined Quadrant Lodge in 1973 and his father was subsequently in attendance when he was raised to the third degree. John went through all of the progressive offices and became WM in 1984. He was first appointed as Provincial Junior Grand Deacon in 1991 and was subsequently promoted to Past Provincial Junior Grand Warden six years later
It was through Masonry that John was able to put his engineering and management skills to good use, having been appointed the Chairman of St Annes Palace Ltd. He very quickly recognised that there were likely to be serious financial implications due to the upper market hall remaining empty and the high cost of constructing the cast iron canopy around the building. John found solutions to both problems and put the hall back on a sound financial footing.
John had shown this eye for business and problem solving on one occasion when his wife Jill was looking at getting a job once the girls were at school. John purchased two nursing homes and put Jill in charge of them. He's not sure if she ever quite forgave him for this but as time went on and 'care in the community' began to bite at the need for the beds, John chose the correct course and sold that business.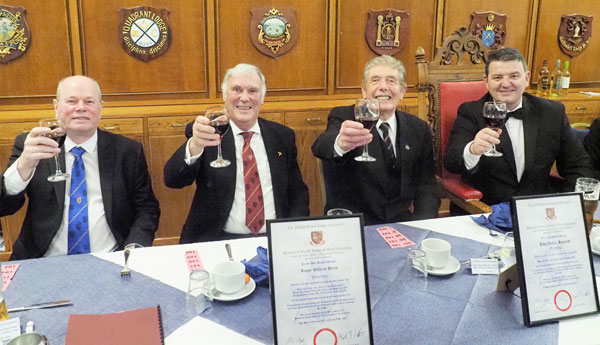 Working in the community was something that John showed a passion for and none more than in his work with the Lytham Community Association and the YMCA. Also for the boxing competitions he was involved in for youngsters in the area. John was also charity steward during the Boys and Girls Festival and through dogged persistence managed to get every Quadrant Lodge member to take out a covenant to support it.
Support was something that John never lacked during his time with Quadrant Lodge. For example, during his year as WM he held his ladies festival at the Cliffs Hotel in Blackpool. No fewer than 130 people turned up to make it a memorable occasion, particularly for Jill, who made an excellent speech and thoroughly enjoyed her evening.
That support has not waned in this modern era, with over 60 brethren attending the meeting, of whom 57 later dined at the festive board. Roger responded to the toast to the celebrants, which was quite equitable as John had responded during the lodge meeting. The whole evening was summed up by South Fylde Group Chairman John Robbie Porter who called it a, 'splendid evening'.