Brethren of Lonsdale Lodge of Installed Masters No 9422 were lucky enough to welcome not one, but two Assistant Provincial Grand Masters to their Installation meeting. The lodge warmly welcomed Peter Schofield and David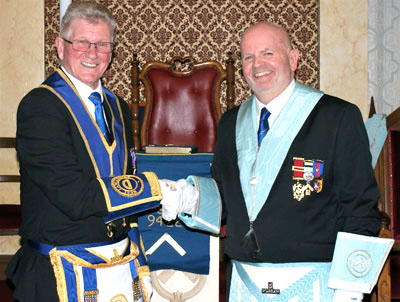 Ogden to witness the master elect, Kevin Rigg, being installed in a very sincere and capable manner by his predecessor, Tony Nevinson.
The meeting, held at the Kings Road Masonic Hall, Ulverston, was attended by 65 brethren who shared the spectacle. Also attending were grand officers, Alan Jones, Roly Saunders, Phil Preston, John Lee, Peter Mason, David Kellet, David Grainger and Barry Dickinson. Executive officers from the Furness and South Lakeland Group, Gary Rogerson, Alan Pattinson and Chris Gray along with acting Provincial grand officers Tim Gill and Fred Dickinson, brought an extra sparkle to the proceedings.
Assistant director of ceremonies, Tony Jackson did an excellent job of keeping the ceremony running smoothly, despite having been given the job at very short notice! Gary Rogerson, Alan Pattinson and David Ogden addressed the master, wardens and brethren respectively in an assured and perfect manner
Whilst the working tools of an installed master were delivered beautifully by Alan Tomlinson; Dan Greaves, Gary Mansfield and Steve Harris orated the first, second and third degree tools respectively, in a dignified and confident style.
Kevin Rigg is a stalwart of the Provincial bowling organisation and was proud to come second in last year's competition. Here's hoping that becoming, master of

Lonsdale Lodge of Installed Masters will help propel him to the top spot next year!
The brethren again demonstrated their charitable giving by collecting £173.25 in the temple; £69 in the West Lancs envelopes and before a delightful banquet upstairs, a magnificent 'Chorley' raffle raised £308 for the lodge charity account, which was boosted by a further £14 from the visiting masters' 'speculation.'