Every installation is a delight to attend but when coupled with a 60 years in Freemasonry celebration, then it is indeed a double delight.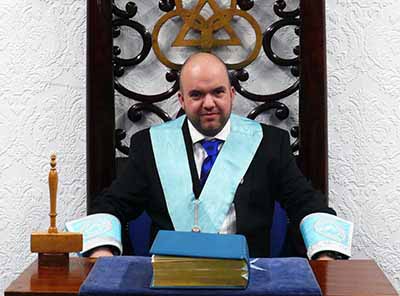 Blainscough Lodge No 8532 enjoyed such an event when they installed Nicholas (Nick) Hansen into the master's chair and celebrated the 60 years anniversary of the initiation of Allan Farrington. This very special meeting merited the attendance of an Assistant Provincial Grand Master Peter Locket and several grand and acting Provincial officers and a large turnout of members and their guests.
With the lodge room full, the master Robert Smith dispensed with the business of the lodge before asking Ian Simm to occupy the chair so that he could install his son-in-law Nick – another delight!!
There followed a ceremony of the highest quality. As one member said afterwards: "Thanks to each and every member who made the night most memorable for Nick and Allan. Practice makes perfect; everyone raised their game and the results spoke volumes to all in attendance. When a lodge faultlessly presents three sets of working tools at an installation, it demonstrates the core ethos of the lodge." Others commented: "One of the best installations; lot of effort and time. The addresses added to the splendour; good to see lots of young talent – light blues in most of the offices."
The entire evening was a credit to the whole team who delivered the ritual, addresses and tools in such a memorable way.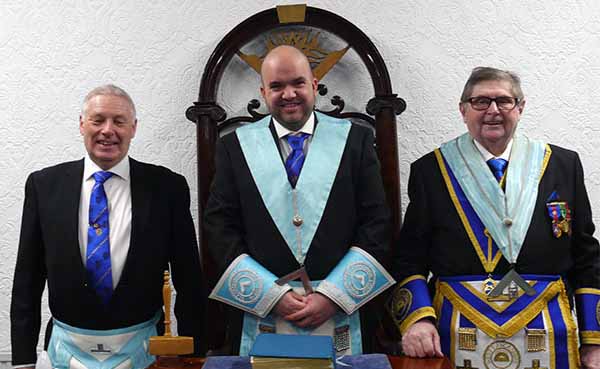 There then followed the celebration of Allan Farrington's 60 years in Freemasonry. Ever modest, Allan had requested that there should not be a full celebration but just a small one during a normal meeting. As a result, the celebration was the last item on the summons for the installation.
So it was at the end of the installation that Peter Lockett stood and told everyone of Allan's Masonic career. He said that the evening was a very special one. Allan had served the Craft loyally and faithfully for 60 years; a wonderful milestone on his Masonic journey.
He said that Allan had been initiated into Townley Parker Lodge No 1032 on 4 January 1962. He served as the lodge's master in 1979-1980 and again in 2010-2011. He worked very hard for the lodge over 54 years, serving as charity steward in 2001-2002 and almoner from 2002 to 2004.
Peter went on to say that Allan had been honoured by the Province in 1987 when he was appointed Past Provincial Assistant Grand Sword Bearer and that promotion to Past Provincial Senior Grand Deacon followed in 1991 and then to Past Provincial Junior Grand Warden in 1999 and Past Provincial Senior Grand Warden in 2012. Allan worked hard for the Province and was Local Care Officer from 2004 to 2012.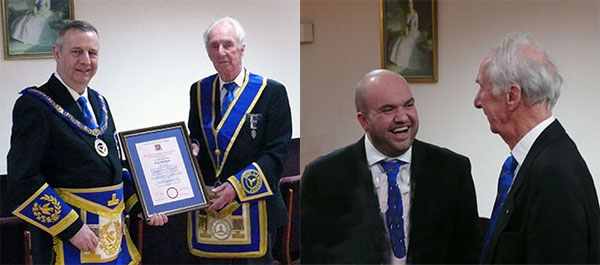 Peter then said that Allan joined Blainscough Lodge on 24 February 2016, becoming its master in 2019-2020. He also joined Earl of Lathom Chapter No 730 on 26 April 1982 and was first principal in 2001-2002. He received Provincial honours in 2009 when he was appointed Past Provincial Grand Sword Bearer and further promoted to Past Provincial Grand Scribe Nehemiah in 2015.
Peter concluded by saying that the certificate that he presented was an acknowledgement of the Province's great appreciation of Allan's 60 years of membership of the craft.
The evening was a double delight that will stay in the memory for a long time for all who attended.