There was a good gathering for the required early start for the brethren and guests of Derby Lodge No 724, which is an amalgamation of Dingle Lodge No 4610, Duke of Devonshire Lodge No 6735 and Rodney Lodge No 4625, in order to complete the installation ceremony of Stephen White and to celebrate 60 years as a Freemason of Ron Everard. The venue was the Geoffrey Hirst Masonic Suite within Woolton Golf Club.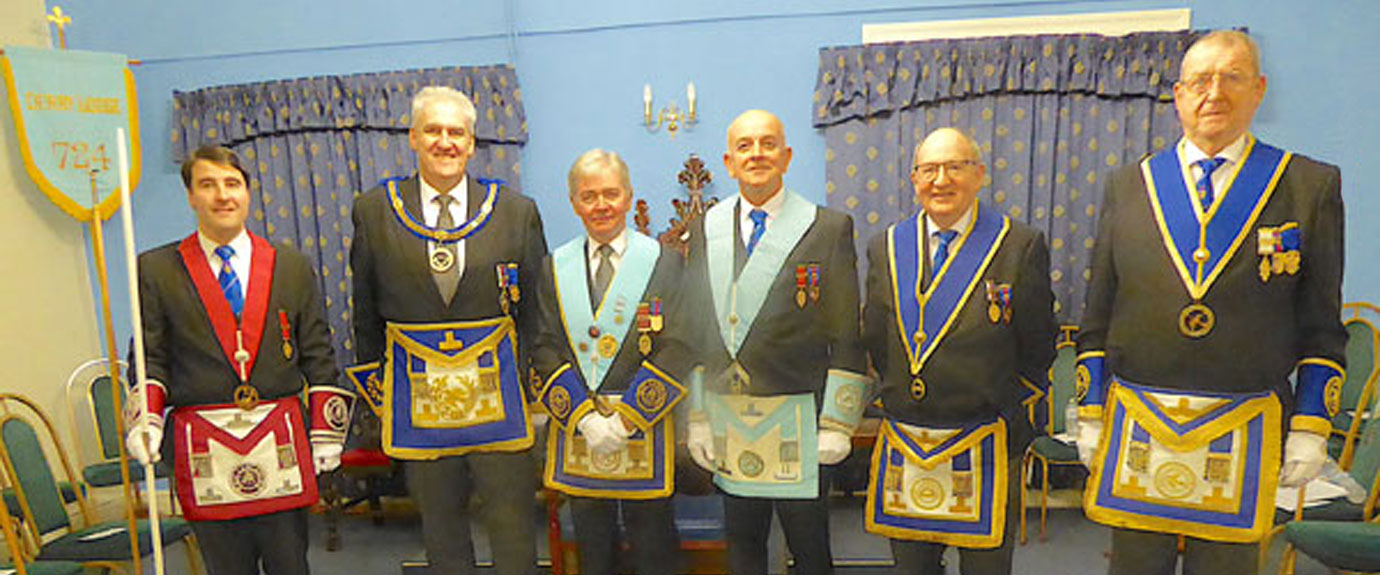 The lodge was opened in the three degrees and Assistant Provincial Grand Master Andrew Whittle, accompanied by group vice chairman John Gibbon and acting Provincial grand officers Mick Southern and Fred Dickinson, along with lodge deacons James Chadwick and John Smith were duly admitted. The WM Graham Fairley warmly welcomed Andrew and offered him the gavel of the lodge which Andrew declined at this juncture so the installation ceremony could commence.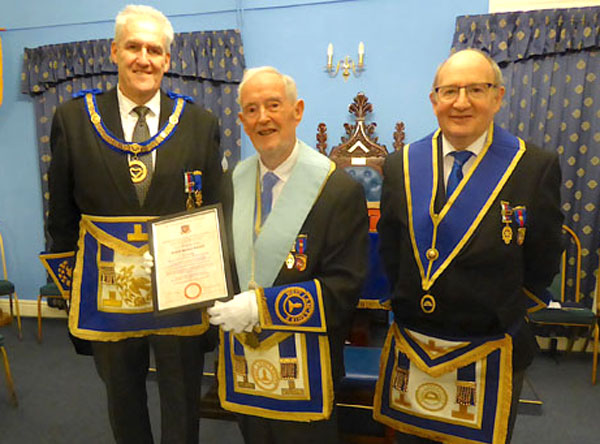 Lodge DC Steven Williams offered salutations to Andrew and then Ron Everard, after which the lodge was adjourned to the second degree so that David Spear could present the master elect Stephen White. Stephen having been in the chair on previous occasions, 2002 and 2018, reaffirmed his obligation and after all brethren below the rank of an installed master had retired Graham duly installed Stephen.
Master Masons were readmitted, saluted the newly installed master and David Spear presented the explanation of the working tools of the degree, after which the lodge was closed to the second degree so that fellow crafts could be admitted, salute the WM and received an eloquently delivered explanation of the working tools from Albert Hogg. Entered Apprentice Freemasons were then readmitted, saluted the WM and Graham Fairley delivered the explanation of the working tools. The WM then proceeded to appoint and invest his officers in a well-orchestrated ceremony under the watchful eye of lodge DC Stephen Williams.
Other addresses were delivered by to the deacons by Stephen Williams, to the inner guard by Barry Mault and the address to the WM was presented by Malcolm Jolley and that to the brethren off the lodge by Andrew Whittle. The ceremony of installation concluded, which prompted Andrew to rise and convey the greetings and best wishes of the Deputy Provincial Grand Master in Charge Philip Gunning and he went on to congratulate all those who had taken part in the ceremony. Andrew was presented with a cheque for £300 for WLFC saying that we would never know the recipients of the donation, but the cheque was thankfully received and would be faithfully applied.
At this point the lodge was called off so the brethren to have a comfort break. The Lodge was called back on and Andrew was again offered the gavel of the lodge which he accepted. Andrew said that tonight was a first for him inasmuch as it was the first time he had been present when a lodge was called off following an installation and a first to have the honour and pleasure of sharing the celebrations of a brother who had achieved his golden jubilee in Freemasonry. The lodge DC placed the celebrant on a chair in front of Andrew.
Andrew commenced the proceedings by informing those present of the life and works of Ronald (Ron) Everard he reminded those present of some notable events of the year 1936, the year in which Ron was born. Billy Butlin opened his first holiday camp in Skegness called Ingoldmells, Jesse Owens won four gold medals at the Summer Olympics held in Berlin; the BBC made its first public television broadcasts; and some of the famous people born in that year included Pope Francis, the leader of the catholic Church, Buddy Holly the singer, Burt Reynolds the actor and of course Ron Everard born in the Liverpool Maternity Hospital.
Ron's father was a merchant seaman but contracted malaria so had to take a shore job and became a manager in a store in Birkenhead whilst his mother, Edith, worked as an office supervisor with Littlewoods. Sadly, Edith passed away in 1988 and his father died in 1994.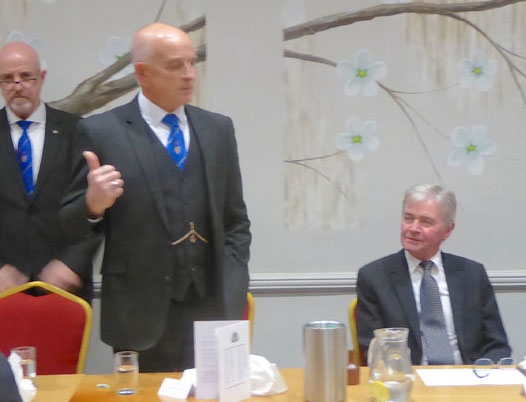 Originally Ron lived Harrowby Street, off Granby Road in Toxteth before moving to Hunts Cross. His education started at Kingsthorne Road Primary School and he later moved to Abbeyholme High School where he would complete his education.
In 1950 Ron joined the British Red Cross rising through the ranks to become a Divisional Officer, their headquarters being in the grounds of Broadgreen Hospital. It was here that Ron began his volunteering service initially as a hospital librarian and then progressing to two evenings per week from 7pm to 3am doing anything the medical staff required from porter, assistant nurse to be present during patient operations.
His career in employment started in 1952 working as a cask office clerk at Elders and Fyffes in Garston. However, in 1954 Ron was called up for National Service and joined the Royal Airforce serving as a medic in 617 Squadron which was best known as the Dam Busters Squadron. He was demobbed in 1956 and returned to Elders & Fyffes where he met a young lady called Pauline who would go on to play a huge and important part in his life. He moved employment to Lawtons of Liverpool for three years and then moved to work for the Co-operative Insurance Company as a door-to-door insurance salesman. His fiancée, Pauline, worked at the Cotton Exchange in the laboratory charged with testing every batch of cotton landed in Liverpool. Ron and Pauline decided to marry and did so at St. Matthews Church in Mossley Hill in 1963. He and Pauline went on to have two children Mark and Ruth.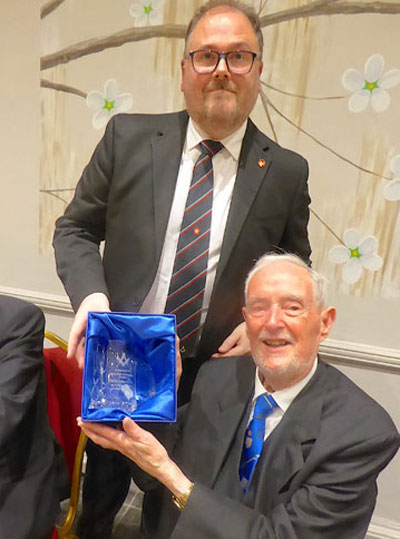 Ron finally found his calling and joined Liverpool City Police and after initial training at Bruche in Warrington. Ron was posted to Lark Lane Police station in Toxteth as a uniformed constable. During his police career, Ron had a variety of different roles and having passed his sergeants exam he was promoted to the rank of sergeant in 1975 working for many years Knowsley Hall the beautify family stately home and estate of Lord Derby, in the communications department. His son Mark met his wife, Leanne, whilst the two of them were working as police officers at Speke and are now both retired. His daughter Ruth became a teacher and married Ian Copeland providing Ron and Pauline with two of his four grandchildren. Sadly, Pauline never saw her fourth grandchild, Isobel, as she sadly passed away in 2012. Pauline and Ron were blessed with four grandchildren.
Andrew continued by informing the brethren of Ron's Masonic career. He was initiated into Rodney Lodge No 4625 in 1962 and passed and raised within the lodge until being installed as WM in 1978.  Ron served in many positions within the lodge and since being installed into Rodney Lodge he has never been out of office and today is the chaplain of Derby Lodge. In 2007 Rodney Lodge amalgamated with Derby Lodge. Ron became a joining member of Sovereign's Peace Lodge No 8911, a lodge for retired police officers. The Province awarded Ron in 1989 by promoting him to Past Provincial Senior Grand Deacon and that of Past Provincial Grand Junior Warden in 1999. In 2010 the Province conferred on Ron the high rank of Past Provincial Senior Grand Warden to recognise the invaluable work Ron had carried out for over 14 years as a volunteer in the offices of the West Lancashire Freemasons Charity. Ron was exalted into the Royal Arch, in De Grey and Ripon Chapter No 1356 in 1970, over the years holding many of the progressive offices but has never gone through the three principals' chairs. In conclusion Andrew asked John Gibbon to read the certificate which was then presented to Ron to rapturous acclaim from the brethren. The full text of Andrew's oration can be read by clicking here.
Ron thanked Andrew for taking the time to make the presentation. The WM was then asked to resume his seat and after the first rising Steven formed the recession. Finally, the lodge was closed in due form so that the celebrations could continue at the festive board. Unfortunately, Andrew was unable to attend due to family matters but John Gibbon on behalf. of the group congratulated Ron on his achievement.
Graham Fairley proposed the toast to the WM saying that it had been a real pleasure and privilege to install him. In response Stephen White thanked Graham and presented him with a token of appreciation a beautify inscribed cut glass tankard.
Adam Kennaugh had the privilege of proposing the toast to the celebrant saying that he had known Ron for many years and tonight was a real celebration for him and presented Ron with a token of the brethren's appreciation, a suitably inscribed cut-glass tankard. Ron was very touched and emotional thanking everyone for attending to help him celebrate his diamond jubilee. It had been a wonderful evening and one that will be long remembered. The final toast was proposed by the tyler Thomas Lunt.
Story and pictures by Colin Roberts.