Supermarket shopping definitely wouldn't normally be high on the agenda for the Widnes Group Vice Chairman John Gibbon, nor the groups charity steward Bob Williams.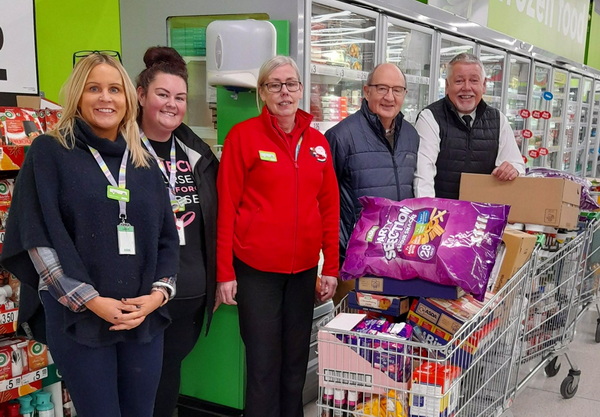 In support of this year's Provincial Food Bank Appeal and armed with a myriad of both personal and lodge and chapter donations from within the Widnes Group, necessity prevailed. Bob however was anxious that his wife didn't find out that he was capable of filling a supermarket trolley! As the pictures show, it proved to be a lot more than one trolley that was filled due to the generosity of Widnes masons.
Asda Widnes is only 500m from Widnes Masonic Hall and store manager Ruth Houghton and her team were once again extremely eager to provide as much assistance as possible when they heard that two local registered charities Nightstop and St Michael and St Thomas's Pantry Appeal would be the beneficiaries of this year's donation.
Ruth had her team organise a shop and baggage service for essential non-perishable foodstuff and toiletries, which were then delivered to the Masonic Hall. With food donations that had been collected within the Masonic hall over many weeks, the Widnes Group continues to focus on easing the burden on vulnerable families at a critical time.
It's a sad fact that demands on foodbanks have soared and many disadvantaged and vulnerable adults and children face the prospect of going without, especially at Christmas. When these donations are delivered during December, it is hoped that the donations will help in easing the burden by supporting our local communities in providing relief for those most in need.
An update on how these donations are received will be follow.