A very special occasion took place at the home of Don Garton, with family, friends and brethren of Grassendale Alliance Lodge No 667 in attendance. Assistant Provincial Grand Master Mark Matthews led the celebration, accompanied by Gladstone Group Chairman John James.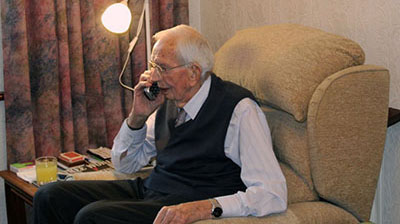 Once Don was settled comfortably, Mark began and informed all present about the life of Don and that he was delighted to be present to celebrate the occasion of 50 years to the day that Don had been initiated into Freemasonry. Mark explained that Don was born in 1932 in Bootle Hospital to Joseph and Ruby Garton. Joseph was a serving police officer.
As a child, Don attended St Peter's School and sang in the choir at St Peter's Church.  He then attended Newsham Secondary School until the age of 14, an age which now seems young to finish school but which was, back then, the norm. On leaving school he became a telegraph messenger boy. He remained in that job until he reached the age of 18 years.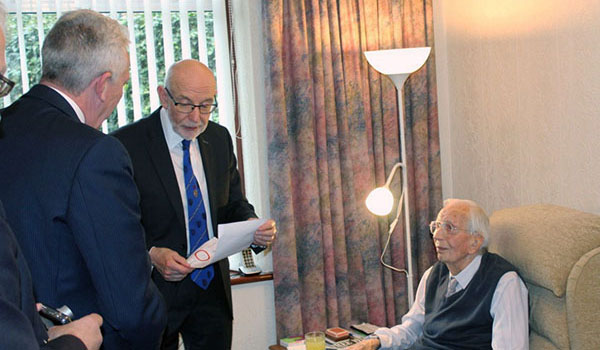 At this point he enlisted for National Service in the army and became a member of the Grenadier Guards. After initial training he was posted to Tripoli, Libya, where he remained until he was demobbed in 1952. Shortly after, he met his beloved future wife Joyce and they began their courtship.
Don joined Liverpool City Police as Constable 168 in A Division, which covered the Liverpool City Centre. He worked foot beat patrols and directed traffic on busy roads such as Church Street, from the iconic city centre 'raised' podiums. In 1974 Liverpool City Police became Merseyside Police. He spent all of his 35 years police service in A Division. The last 15 working in the divisional administration office at St Anne Street Police Station.
In September 1954, Don and Joyce married at St Margaret's Church, Anfield. Don has three children; Greg, Julie and Guy. As a family they enjoyed many happy summers holidaying in caravans or in boarding houses in North Wales, Devon and Cornwall.
Don was a keen cricketer, often representing the A Division team. He actively encouraged his children to take part in sport. Every Sunday morning he would take them to the police swimming baths at the Police Training Centre on Mather Avenue.
In 1972 Don was initiated in to Grassendale Lodge No 4808 where Joyce and he made many dear friends. Apart from the ceremonial side of the lodge, they always enjoyed the ladies evenings, carol concerts, dinners and long weekends away.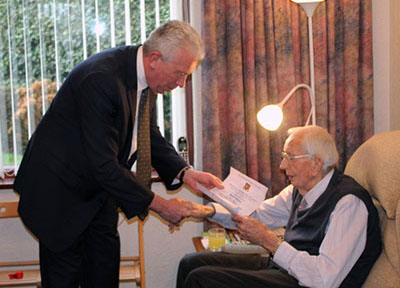 Don was installed as WM for the first time in 1988. He and Joyce enjoyed a wonderful ladies evening at Hope Street Masonic hall in March 1988. This date was particularly memorable as it also happened to be Joyce's birthday! A lodge weekend was held later in that year at Lytham St Anne's. In December 2009, on amalgamation with Alliance Lodge No 667, the lodge became Grassendale Alliance Lodge No 667.
As their children grew to adulthood, Don and Joyce enjoyed taking holidays abroad, including all over Europe, Israel, Egypt and America. They particularly enjoyed going on cruises with friends. Sadly, Joyce passed away in July 2020. The couple had been married for just short of 66 years. They had received congratulatory cards for their 60 years and 65 years wedding anniversaries from Her Majesty the Queen.
Don has marvellous support from his children, grandchildren, great grandchildren and professional carers. He is particularly looking forward to celebrating his 90th birthday in April 2022.
For his service to Masonry, Don was recognised by the Province and he holds the high Masonic rank of Past Provincial Grand Superintendent of Works.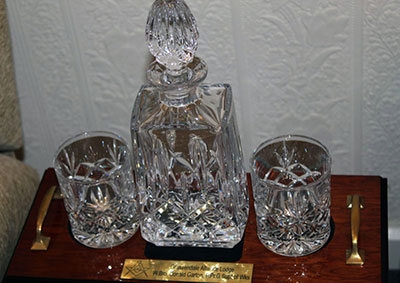 Mark congratulated Don, saying: "I thank you for your 50 years of fantastic service to Freemasonry. It is a magnificent achievement. I'm sure that everyone here today joins with me in congratulating you on this significant milestone landmark." All present applauded Don and joined in with Mark in offering congratulations.
At that moment, Mark was explaining to Don: "The Provincial Grand Master Tony Harrison, is aware of our gathering today, to help you celebrate your golden jubilee. He sends you his congratulations and has caused a certificate to be struck to mark the occasion." Mark then asked group chairman John James to read the certificate.
As John rose to read the certificate, the telephone rang. It was the Provincial Grand Master Tony Harrison contacting Don to offer his personal congratulations. They spoke for several minutes, following which the certificate was read by John and Mark then formally presented it to Don.
The brethren of Grassendale Alliance Lodge also presented Don with a very special whisky decanter and glasses, on a mounted wooden base.