It has been five years, since Wayne Devlin first performed live at the Trafford Centre for Mike Sweeney's BBC Radio Manchester show, when he sang his version of the Irish classic, Danny Boy.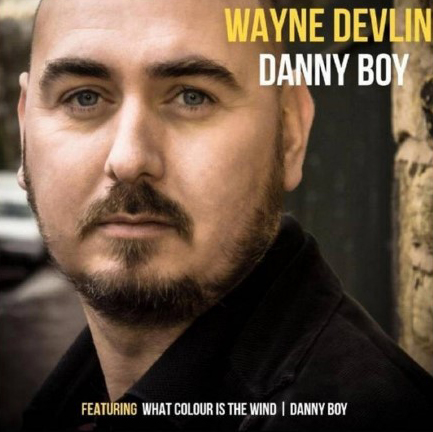 Wayne actually sang the song by default! He had every intention of singing the Sinatra classic, The Summer Wind, but when he arrived with his backing track, he was told he'd have to sing a cappella. The Summer Wind wouldn't have been appropriate, so with literally two seconds before going on air Wayne desperately thought of a song to sing and Danny Boy just popped in to his head.
So, Wayne sang Danny Boy and as soon as he had finished it Mike Sweeney informed him that the phone lines were full of people saying things like: "Wayne just won the hearts of every Irishman in Manchester", which was lovely. Then things started to happen.
Wayne is a member of Hand and Heart Lodge No 4109 and to celebrate the fifth birthday of 'Devlin's Danny Boy' and to thank everybody for the amazing journey the song has taken him on Wayne is going to donate all the profits from all purchases of the song to the West Lancashire MCF 2021 Festival. To buy the single for only £1 click here.
Wayne was invited to sing his version of Danny Boy at the Manchester Irish Festival, which was a lovely honour. Then Bev Callard, who plays Liz McDonald on Coronation Street, and her husband Jon invited him to record his version at their recording studio in Media City. Wayne recorded it a cappella and Greg Morton, the sound technician, added the keyboard backing track.
Martin Logan, from Irish TV, came and filmed him recording the song. Martin would later come along and film Wayne singing the song live at charity events around Trafford. This exposure on Irish TV was priceless and the Irish community really took to it.
Boxer, Bobby 'The Celtic Warrior' Gunn used the song as his ring walk. Newry City Football Club played the song at their stadium in Northern Ireland. Wayne was featured and interviewed in Ireland on RTE and several newspapers across Ireland. The song was nicknamed 'Devlin's Danny Boy' and Wayne was able to support several charities by donating sales from the single to them.
It got airplay on the radio across the UK and Ireland and further afield in countries such as Russia and Japan.
Charlie Landsborough heard Wayne's version and told him that if he could sing his hit song 'What Colour is the Wind' with as much emotion he would give his permission to release his own version of his song, which Wayne very gratefully did and it is on the B side of the CD.