The October meeting of Lodge of Lights No 148 was a very special occasion to celebrate Derek James Bowden's 50 years as a Freemason. The meeting was attended by over 70 Freemasons all eager to join Derek on this special event.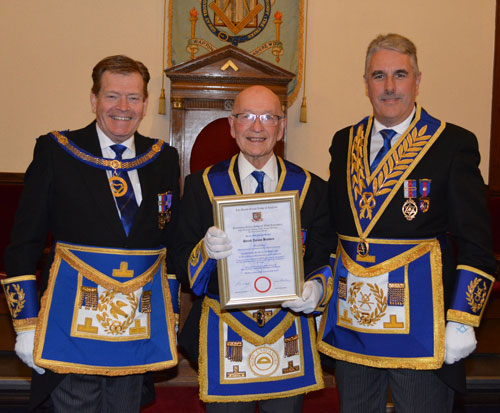 The meeting was opened by the WM John Starkey, and the usual administrations observed and upon the lodge being opened in the third degree it was announced by Gary Smith, Provincial Deputy Grand Director of Ceremonies, that Assistant Provincial Grand Master Kevin Poynton was without and demanded admission. John said the lodge would be pleased and honoured to admit him.
Kevin was then admitted in due ceremonial style and was accompanied by grand and Provincial grand officers including Dennis Rudd and Tony Bent, both of whom are Past Assistant Grand Masters, Mike Dykes, Assistant Provincial Grand Master (Worcestershire), Chris Eyres, Colin Rowling and Andy Barton, Warrington Group Chairman and acting and past Provincial grand officers.
John welcomed Kevin and all assembled, hoping everyone would have an enjoyable meeting. Kevin thanked John for a warm welcome. John, as a matter of course and respect offered Kevin the gavel being his rite, to John's relief Kevin accepted the gavel and occupied the chair. Kevin closed the lodge in the third degree and it was resumed in the first degree, whereby entered apprentices and fellow crafts were re-admitted.
Kevin asked that Derek be seated in front of the pedestal and then provided a comprehensive account of Derek's life and a brief account follows: Derek James Bowden was born in Warrington in 1936 and baptised at the Parish Church of St Elphin's, a year of significant importance with the so-called Hitler Olympics and the abdication of King Edward VIII.
On Derek's third birthday, two days before war broke out, his father, being an army reservist due to previous service, was called up and after being on the front line in France, became a survivor of Dunkirk, so effectively, Derek, being an only child, did not see his father again until he was 9 years old when the war ended in 1945.
He was brought up during the war years on Bewsey Council Estate by his mother who worked regular nights at the Risley munitions factory, whilst Derek slept at neighbours. He attended Bewsey Primary and Secondary Modern School where, in his final year he became head boy and represented the school at football, rugby and cricket, he was also selected for Warrington Schoolboys' Rugby Team. In this formative period Derek also attended St Barnabas Sunday School and was confirmed in 1949 by the then Bishop of Liverpool. He was also a member of the Workingmen's' Mission Cubs and Scouts Group, participating in the Warrington Walking Day for several years.

On leaving school in 1951 at the age of 15, Derek started work at N Greening and Sons Ltd, wire manufacturers in Warrington, as an apprentice engineering draughtsman. His first day at work was on New Year's Eve 1951 and his second day was New Year's Day, no holidays in those days! This also involved attending Warrington Technical College on day release for 10 years studying mechanical engineering, where he gained his Higher National Certificate (HNC).
National Service then beckoned in January 1960 and he served for two years in the Royal Artillery as a Driver/Radio Operator, mainly in Germany, where he quickly realised it was a big advantage to gain a place on the regimental rugby union team and travel round Germany most weekends, otherwise he would be on guard duty. This was when the situation between east and west was very strained with Germany divided and the Berlin Wall existed.
Upon re-joining civilian life in February 1962, he returned to Greenings and Warrington Technical College, studying further engineering endorsement subjects for another three years in the evenings which eventually led to him later achieving Chartered Engineer qualification and Corporate Membership of the Institution of Mechanical Engineers. (MIMechE). In 1965 he worked for a number of iconic engineering companies in the north west including English Electric Newton-le-Willows, where he was a design engineer on the famous diesel engines. A move to Lockheed's at Speke, Liverpool in 1968 and into aircraft hydraulics and landing systems gave him his claim to fame. He was responsible for the stress analysis and certification of the undercarriages on the Hawker Siddeley Hawk, an aircraft, which is still flown today by the Red Arrows. A move in 1976 into the nuclear industry followed with a short spell at British Nuclear Fuels Ltd (BNFL) at Risley where he was involved with nuclear and mechanical plant design. Derek then joined Drafting and Technical Services (DATS), Widnes, in 1978 on contract design for a chemical plant at ICI Runcorn. After completion of this contract ln 1981, he gained a position as Head Office Engineer with Royal Sun Alliance Engineering Insurance in Manchester involving design approval and certification of engineering pressure plant and in 1989 became assistant manager of the Special Services Division.
As computerisation increased in the 90's, the reduction in staff began to have a serious effect and he took early retirement at 60 in 1996. Derek then worked for a further five years as a self-employed consultant engineer, mainly at Allianz Cornhill Engineering Insurance in Manchester, before finally retiring in 2001 at 65.
In 1965 at St Mary's Church in Great Sankey he married Doris, a very successful town centre hairdresser. Two children followed, a daughter Elaine and son Stuart who have both successfully made their way in the world. They are also blessed with two grandsons who are both on their way to achieving success in life.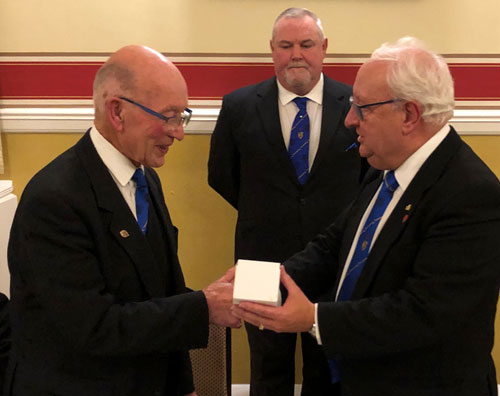 Derek was initiated into the Lodge of Lights on the 27 October 1969. He was installed as WM in January 1982 and there followed a series of offices in the lodge including social committee treasurer, which included the 1981 Festival, lodge of instruction treasurer, lodge chaplain a position he held for five years, ADC for six years, lodge of instruction preceptor, 1997 Festival Representative, auditor and in 2008 he became almoner, a position he still holds and is in his 11th consecutive year. Such application has been rewarded by being appointed PPrJGD in May1991, promoted to PPrSGD in October 1998 and then PPrGSuptWks in October 2012.
A committed Royal Arch Mason he was exalted into Chapter of Elias Ashmole No 148 on 15 January 1973 and Installed as first principal in March 1988. Since then he has been and still is the assistant director of ceremonies, an auditor and currently the group representative, a position he has held since 2012. All this work has been rewarded by an appointment as PPrAGSoj in 1995, promotion to PPrDGSwdB and then further promotion to the extremely high rank of PPrGScribeN on 9 October 2019 at the last Provincial Convocation.
Derek similarly holds high ranking positions in several other Masonic Orders. His Warrington Group activities included being the co-ordinator from 2010 to 2015 of the annual group church service of thanksgiving and rededication. Derek and his wife are also members of the Warrington Masonic Fellowship, where he has served in the office of vice chairman for two years and then chairman for two years.
If all this was not enough, Derek still finds time to maintain a very sizeable garden, go to the gym and support Warrington Wolves which he has done for 73 years, including attending every Wembley and championship final that they have been involved in since the Second World War. His main commitment however, is to the church, Derek has served on the Parochial Church Council at St Mary's, Great Sankey, at various periods over the last 54 years and assists in the services by delivering the Bible readings on a rota basis and bell ringing every Sunday and at weddings. He has been responsible for the church grounds since he retired and was instrumental in designing and building the Garden of Remembrance in 2004 for the interment of ashes, this is still an ongoing commitment. Derek claims his personal relationship with the Lord being all important in his life.
Andy Barton, read the certificate prepared and signed by the Provincial Grand Master Tony Harrison, which was then presented to Derek by Kevin who thanked Derek for all his work and expressed a wish for him to continue for many more years to come. There was considerable applause coupled with large beaming smiles from Derek!
Kevin then asked John if he would like to resume the chair for the remainder of the evening which he accepted and thanked Kevin for his excellent account of Derek's life and the friendly way he had conducted his presentation. Derek, at Kevin's invitation, joined him and the grand and Provincial grand officers as they retired.
The ceremony was complemented by an excellent four course meal at the social board at which he was presented with a watch by the WM as a memento of his achievement of 50 years in Freemasonry.
Doris along with 28 ladies also met in an anteroom and enjoyed a celebratory meal together.
Pictures and story by John Starkey.