At the installation meeting of Hesketh Chapter No 986 it was proposed that the chapter make donations to two small local charities. These donations are normally handled by the Provincial Office, but on this occasion the treasurer of the chapter, Derek Alty, was asked if he would deliver them personally.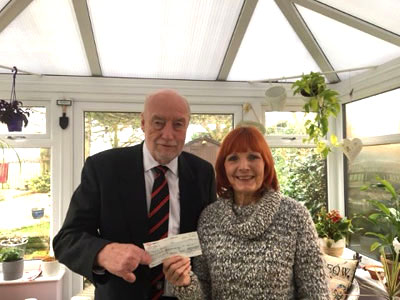 After recovering from a bout of COVID, Derek was finally able to make the necessary arrangements to visit the beneficiaries.
The Miles of Smiles Charity are based in Leyland and are a very small charity run by only four trustees and volunteers. Their aim is to provide support to young people who in some cases are acting as carers for their parents or alternatively to provide memories or treats to referrals from local charities like Derian House, Barnardo's and St Catherine's. This support can be in the form of practical items such as furniture or IT equipment, or alternatively in the form of treats such as trips to youth clubs, football matches or other sporting events and school trips. All of which go a long way to creating 'lovely smiles and fantastic memories'.
Derek met up with Karen Rainford, founder of the charity and one of the trustees, to present a cheque for £250. Karen was delighted with the contribution and said: "A wonderful donation from Hesketh Chapter. Masons are such wonderful chaps, who support so many causes big and small – I'm really happy to say that we are one of the small ones. Many, many thanks to all involved."
Freemasonry has a long track record of helping this worthy cause as evidenced by this text on the supporters' page of their website. "We really love the Masons. They are a brilliant bunch of chaps who do amazing work and tend to keep their light under a bushel. Well, we are shouting it from the rooftops! You are stars!" You can find out more about Miles of Smiles by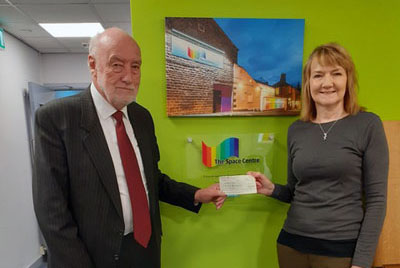 Then it was on to The Space Centre in Preston. The Space Centre offers a totally flexible environment for families, carers, therapists and teachers. 100's of groups and individuals visit each month. These include special schools, respite care homes, family bookings, play-schemes, parent support groups, after school clubs and also day centres. They also include community homes who cater for young people and adults with physical and learning disabilities. The Space Centre can cater for people with a wide range of disabilities including cerebral palsy, profound multiple disabilities, autism and brain injuries. Groups come from all over the north west and sometimes even further afield, which demonstrates the need for such a facility and illustrates the fact that there are no other centres like The Space Centre in the local area.
Derek met with Andrea Baker, one of the fundraisers at the Space Centre, and presented the chapter's donation of £250. Andrea was delighted with the contribution and asked Derek to pass on her thanks to all who had made it possible. Information on the Space Centre can be found by

Derek commented: "Donations such as these made by Hesketh Chapter and our lodges, chapters and other Masonic Orders are so important to small local charities that don't have the profile or means to publicise the important work they do for our communities."