The annual installation ceremony for Wavertree Gateacre Queensway Lodge No 2294 has been held in the Adams Suite at Liverpool Masonic Hall on Hope Street. At very short notice Jorge Perez was called upon to act as the lodge director of ceremonies. This was due to the bane of modern life, a COVID alert on the phone of Dave Gaskell prior to the meeting, necessitating him to go into isolation.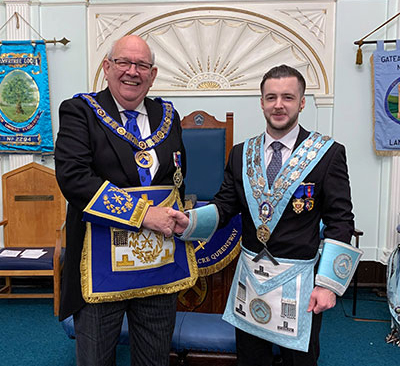 The lodge was opened by WM Stephen Crane, ably assisted by the lodge officers who after attending to the standard business on the agenda were pleased to welcome their principal guest Deputy Provincial Grand Master Phil Gunning. He was accompanied by fellow grand officers Mark Matthews and Mike Winterbottom, in procession with the Provincial Deputy Grand Director of Ceremonies Jason Dell and group chairman Dave Johnson.
For the purpose of the installation ceremony Mike Winterbottom occupied the senior warden's chair and Dave Colquhoun that of the junior warden whilst Ian Hankin took position of inner guard. It was a delight to have a father, Stephen Crane, installing his son, Darren Crane, into the chair of King Solomon. Jorge Perez assisted with part of the inner workings while the working tools were presented by Bill Gaywood, Darren Ross and Stuart Virgo.
The address to the newly installed master was delivered by Dave Colquhoun and Dave Bell gave the address to the two wardens, and the address to the brethren of the lodge was delivered by Phil Gunning. Phil was kept busy during the evening and presented to two brethren their Grand Lodge certificates. There was also a certificate accompanied by a letter from United Grand Lodge in recognition of the outstanding work done by the lodge during the lockdown associated with the ongoing COVID-19 pandemic.
One of the first actions of the new lodge master was to present two charitable cheques on behalf of the lodge, both in favour of £250, the first to the West Lancashire Freemasons' Charity, the second for Claire House Hospice.
After enjoying a very amicable festive board at which Darren Crane presented the immediate past master's jewel to father Stephen, Phil Gunning was presented with a 'floral oasis', but on having heard of the illness of the wife of the lodge secretary he requested that it be passed on to her with the best wishes of himself and his own wife Anne.