Acacia Lodge No 4512 is a Hall Stone Lodge and has celebrated a wonderful installation in November 2022 within the Roman Suite at Liverpool Masonic Hall. The lodge was opened in the usual manner by the WM Ray Jones and the statutory business attended to. The brethren of the lodge were delighted to receive principal guest Colin Jenkins who was the representative of the Deputy Provincial Grand Master in Charge Philip Gunning. Colin was accompanied by Liverpool Group Chairman Dave Johnson.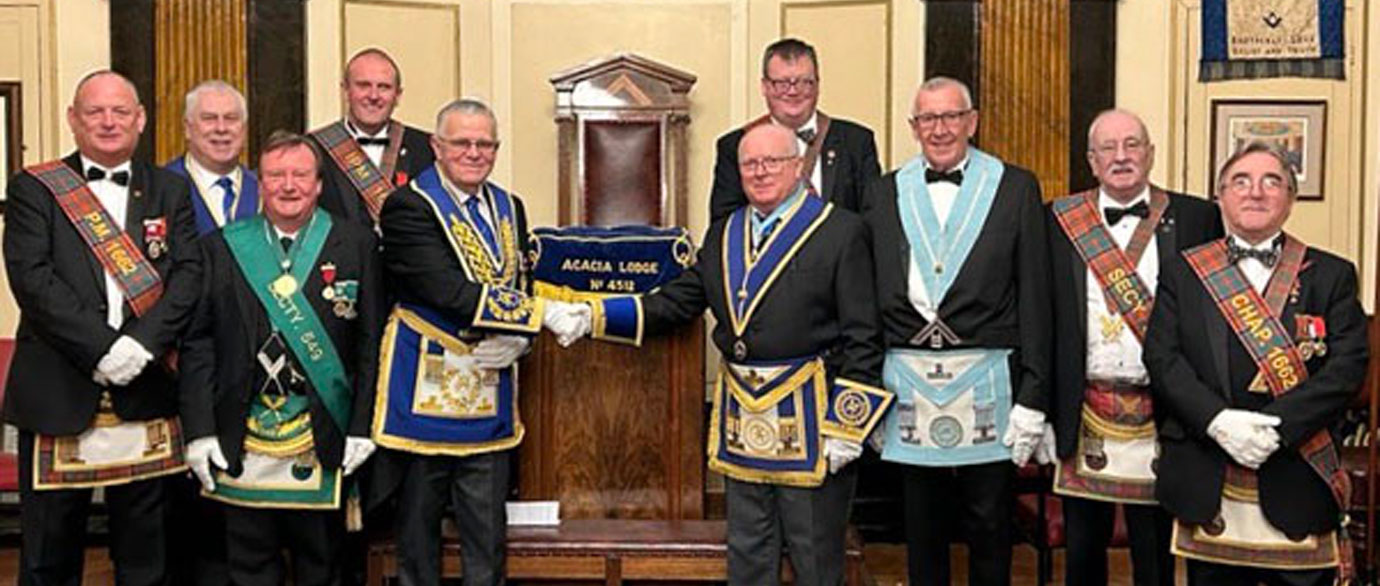 A superb colourful deputation from the Scottish Constitution was present, the majority from Lodge Irvine Newtown No 1662, a tradition still going strong after many decades. This year the visit held a special significance as due to COVID restrictions, this visitation had been on hold throughout the pandemic.
With the salutations delivered, the ceremony of installation proceeded with Ray inviting Graham Robinson to take the chair as the installing master. A superb ceremony was performed with Derek Nuttall being placed in the chair of King Solomon. With regard to the addresses given, all delivered exemplary, to the WM by Stuart Kane, the wardens by John Rainsbury, while Colin Jenkins excelled in his address to the brethren of the lodge.
During the perambulations the tools of each degree were presented and explained by three brethren distinguished by their light blue attire. Master Mason Ian Knowles was responsible for the working tools of the third degree, fellow craft Neil Kearney for the second degree, and fellow craft Jamie Rowland those of the entered apprentice.
On conclusion of the installation, Colin Jenkins passed on the best wishes of the Province to Derek Nuttall on attaining the chair once again, the previous term being in 1993. Thanks were expressed to all who had taken part in the evening's ceremony, and the outstanding standard of work acknowledged.
Derek presented a number of benevolent cheques on behalf of Acacia Lodge members, totalling £800, to which was added a further sum of £200 from the subsequent festive board raffle given to Dave Johnson towards the Liverpool Group Food Bank Appeal.
The following festive board was very lively and convivial and was enjoyed by all, and the dinner was as usual of an excellent standard, at the end of which a bottle of liquid refreshment was presented to both Colin and Dave.