The installation of Dennis Laird as WM of Plantagenet Lodge of Installed Masters No 9357 took place in the presence of Provincial Grand Master Tony Harrison's representative, Past Assistant Grand Director of Ceremonies Barrie Crossley.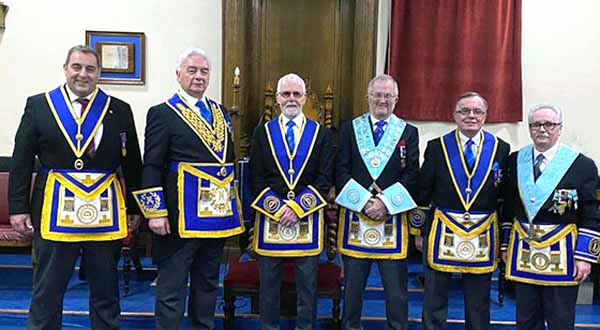 Barrie was accompanied by grand officers Chris Butterfield, Philip Gardner, Peter Mason and Jim Wilson; Past Provincial Assistant Grand Pursuivant Joe Crabtree, Provincial Grand Steward Gordon Evans and Past Provincial Grand Steward Alan Tomlinson, Lancaster and District Group Vice Chairman Scott Devine and the group secretary Chris Larder.
Dennis was initiated into Piel Castle Lodge No 6099 in February 1998 where he was WM in 2006, and again in 2016. He served as director of ceremonies for five years, has been secretary since 2017 and is also currently the lodge mentor.
In 2007, Dennis joined Lonsdale Lodge of Installed Masters No 9422 and following the sudden death of the secretary, has been acting secretary until March where he will be appointed secretary. He is enjoying the challenge of juggling the role of acting director of ceremonies until a replacement is appointed at the installation meeting.
After joining Henry Cook Chapter No 1021 in 2000, Dennis became first principal in 2013 and is currently director of ceremonies. He is a member of Vale Chapter No 5256, Provincial Grand Stewards Chapter of West Lancashire No 8516 and two other Masonic Orders. Dennis is also secretary of Barrow Masonic Club.
Dennis is a retired engineer and project manager and is married to Carol. They have one son, Simon who is a telecoms engineer, and seven-year-old granddaughter Mollie.
When not taking part in Freemasonry, Dennis enjoys travel, boat fishing, photography and local history; in addition to tending to his allotment when weather permits.
At his installation ceremony, Dennis was presented by Philip Gardner. Installing officers were senior warden Bernard Snape, junior warden Mike Brown and inner guard Paul Taylor. The master's working tools were presented by Tony Cassells, the third degree tools by Paul Mason, second degree tools by Richard Parker and first degree tools by David Christopherson. The WM appointed Tony Cassells as senior warden and Paul Thompson as junior warden.
The address to the master was given by installing master Allan Mills, that to the wardens by Scott Devine and that to the brethren of the lodge by Barrie Crossley.
The organist was David Tattersall. 62 brethren attended the festive board which was held at Rowley Court. The toast to the WM was given by Tony Cassells and the raffle raised £264.