The members and guests of Ionic Chapter No 2405 in St Helens attended a somewhat unusual golden jubilee for David Thornton.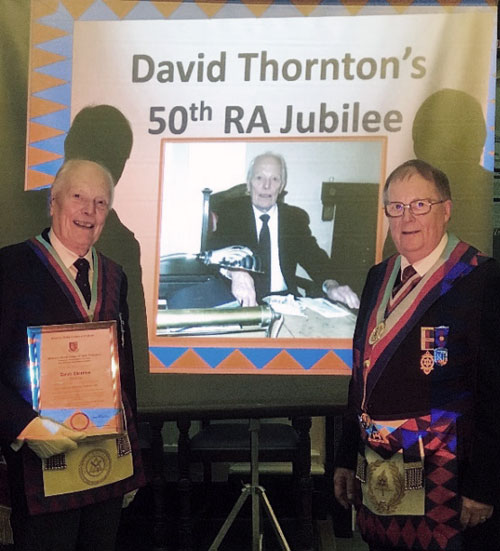 With David's agreement, some technology was introduced into the proceedings and Assistant to the Provincial Grand Principals Colin Rowling used PowerPoint to capture the life and times of David's Masonic and private life at his birth, exaltation and installation.
Colin, quoting Othello, said: "He has done the cause some service and it is well we should know it." The presentation was in three sections. First, David's life from his birth in 1936; secondly, events around David's exaltation in 1968 and then finally a section that focused on the time he became first principal of the chapter on 12 February 1982.  There were pictures, music and audience participation.
Celebrating the time of David's birth at Nurse Tandy's Maternity Home in St Helens, the companions were informed that the day after David was born the funeral of King George V was held. He had passed away five days after he had taken to his bedroom at Sandringham complaining of a cold.
Then, in a quiz style, the companions were asked to 'Name that tune' (or artist) as Bing Crosby, Fred Astaire and the Benny Goodman Orchestra sang and played 'Pennies from Heaven', 'The Way You Look Tonight' and 'Goody, Goody' respectively.  They were also shown a list of the top 10 from January 1936.
The notable events of 1936 included the Olympic Games in Germany, Billy Butlin's first holiday camp in Skegness, the launch by the GPO of the speaking clock, the destruction of the Crystal Palace in a fire and the launch by the BBC of the world's first regular TV service.
After a look at the fashions of the day and the cost of living data which revealed that a pint of beer cost the equavalent of 5p, Colin pointed out the famous who were born around the time of David's birth.  They included Buddy Holly, Burt Reynolds, Roy Orbison and Glenda Jackson.
The Thornton family, which also included Albert Stanley Thornton, Marion Thornton and Elizabeth Julia, lived in Eccleston Park, Prescot, which David pointed out was at the time in Lancashire!  He attended a school run by Pilkington's but with the war not over, in 1944 and at the age of eight, David was boarded at Rydal School in Colwyn Bay. The school's motto was 'Prodesse quam conspici'.
At this point Colin pointed out that the translation 'To accomplish rather than to be conspicuous' is particularly apt in David's case since he does do good and is certainly not demonstrative in any way, but rather gets on quietly and unobtrusively with whatever he is charged to do.
David's education continued at Manchester University where he gained a BSc in Techical Science and followed it up with a MSc.
In 1968 at the age of 32, David was exalted in Ionic Chapter, six years after being initiated in Windle Lodge No 7512.  On the day that Apollo 7 was launched from Cape Kennedy, top of the charts was 'Those Were the Days' by Mary Hopkin, Dad's Army was first aired on the BBC and a pint of beer cost £0.14½d.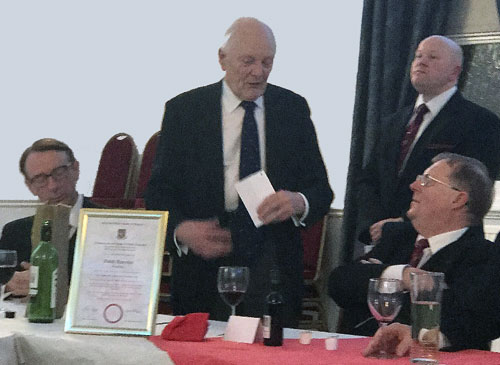 By this time David had married Rhona in October 1966 and daughters Sarah Melissa and Deborah Lucy were to follow.  Whilst leading a very busy working life in the family business of John Thornton & Co Ltd. David was also pursuing his passion for bee-keeping. He has kept bees in Rainhill for many years although he takes his hives to several places so that the bees can collect pollen and nectar from a variety of plants.
Companions learned that you shouldn't wear sweaty socks when handling bees since they don't show much interest in you if you don't smell – the cleaner you are, the less chance there is of being stung. David's other interests included industrial archaeology, particularly through the North Western Society for Industrial Archaeology and History, who published his work in their journals, and he played golf at Huyton and Prescot Golf Club.
David became first principal of Ionic Chapter on 12 February 1982 on the day that Next opened its first store, the Jam were top of the pops with 'Town Called Malice', Laker Airways collapsed and a pint of beer cost 92p.
During his tenure as first principal, David carried out no less than three exaltations and the minutes of these meetings showed that there was no sharing of the work, David completing all the ceremonies himself.  At the end of his tenure he then installed his successor into the chair – all in all an impressive contribution to the Royal Arch!  David's first Provincial appointment was to acting steward in 1988 to be followed four years later by a promotion to Past Provincial Grand Sojourner in 1992. A further promotion came in 2000 to Past Provincial Grand Sword Bearer to be followed in 2010 by the very high rank of Past Provincial Grand Scribe Nehemiah.
Colin expressed his great privilege in being able to take part in celebrating and recognising David's wonderful 50 years of commitment to the Royal Arch and said that he was sure that all present would recognise or have received personally from David, his wise words of wisdom over the years. It was clear that David Thornton has embraced the Royal Arch, contributed to the Royal Arch and has proved to be one of that stalwart band of men, without whom this Order would not flourish. A fine example of a gentleman and companion.
Following the reading of the certificate by group chairman Graham Williams and its presentation to David, the companions enjoyed a joyful festive board, at which David presented a cheque for £100 to the West Lancashire MCF 2021 Festival.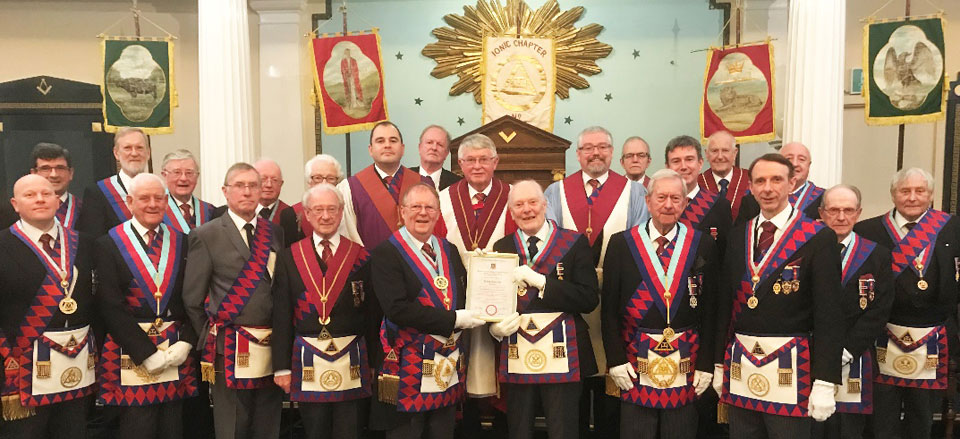 Pictures by Peter Whalley.