Westhoughton Masonic Hall was the venue for a feast of Masonic ritual and fellowship. The occasion was the installation of David Philips into the chair of Coronation Lodge of Westhoughton No 7258. David is a ritualist of some repute, so the pressure was on the installing master Gary Fisher and the rest of the installation team.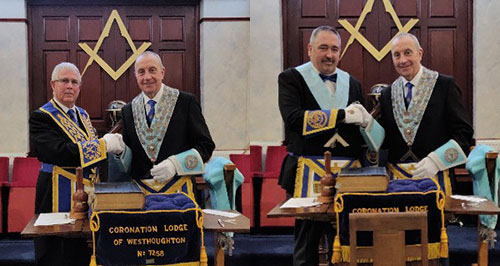 Geoffrey Porter, the representative of the Provincial Grand Master Tony Harrison, accompanied by the members of Coronation Lodge of Westhoughton and their guests were not disappointed as they saw David installed in fine style by Gary.
David was presented for his installation by his very good friend Derek Robinson, the first act in a ceremony which could not have provided a more solid and reassuring evening for David.
As the ceremony progressed, Gary Fisher conducted the ritual with immaculate articulation. On completion of the inner workings and after seeing David safely and happily installed into the chair of King Solomon, Gary passed the reins to Steve Gerrard to complete the proclamations and invest the officers of the lodge. Throughout the proceedings, each member of the lodge and even one or two visiting members of the installation team produced perfect addresses. The address to the WM was given by John Robson, that to the wardens by Peter Allan and to the brethren of the lodge by Geoffrey Porter. The excellence continued as the working tools were presented by Stuart Wilson, Peter Hegarty and Richard Frazer Bastable to the highest of standards
As David took control of his lodge his first task was to present four cheques. They were £250 to the MCF 2021 Festival, £200 to Well Woman (Leigh), £100 to Brookfield Hall and £100 to Ecclesholme.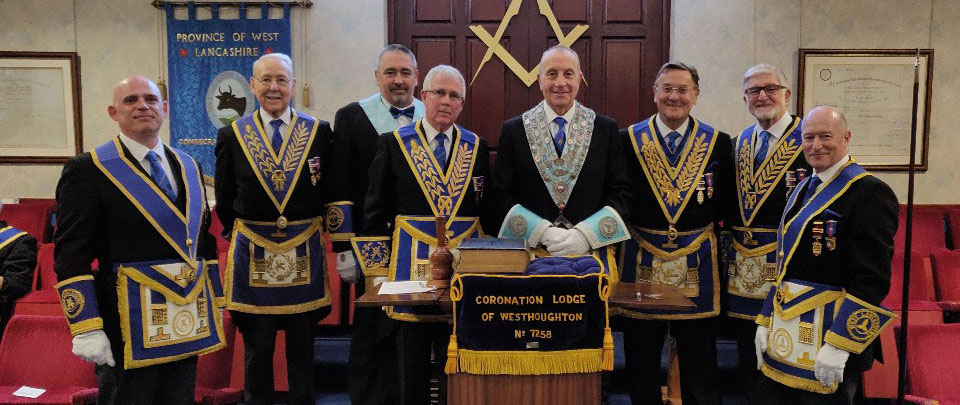 At the conclusion of the formal part of the evening, the 42 members and guests retired to the bar and to enjoy each other's company at the social board.