David Sawyer was installed in the chair of King Solomon at Great Eccleston Lodge No 8895 in November 2021 by installing master David Rhodes. The representative to Provincial Grand Master on the occasion was Jim Wilson who was accompanied by Lancaster Group Chairman Neil McGill and deputy chairman Scott Devine.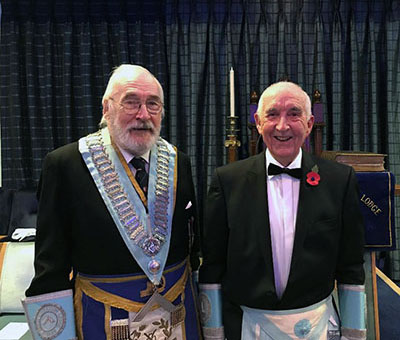 David Sawyer was brought up in Garstang where he attended Garstang St Thomas School and later passed his 11 plus exam to gain entry to Lancaster Royal Grammar School. On leaving school he joined an engineering firm in Preston as an apprentice for 5 years, leaving on completion of his apprenticeship.
In 1967 David joined Lancashire Constabulary and was posted to Eccles on the outskirts of Manchester. In November 1967 he married Jean who he had met on holiday. They got married at Penwortham and then moved to Eccles, remaining in the Manchester and Wigan area until his retirement in 1997.
On retirement they returned to live in Garstang and took up crown green bowling as a hobby at the local bowling club. They also enjoy walking and birdwatching. David enjoys researching family history and completing jigsaw puzzles in his spare time.
David helped to set up the Men's Fellowship Group at St Thomas' Church in Garstang and is the church's representative for the Children's Society where he is responsible for the collection of box holder's donations.
David was presented for installation by Stephen Hogg and, during the ceremony, the third degree working tools were presented by Scott Devine; those of the second degree by John Thornton and those of the first degree by Ernie Hughes. The address to the WM was given by Stephen Hogg; the address to the wardens was given by Stuart Mowbray and the address to the brethren of the lodge was given by Jim Wilson.
The organist was David Tattersall and the master's song was performed by George Fox.