The companions and visitors to Anchorsholme Chapter No 5854 annual installation convocation were delighted to have as their principal guest, the Deputy Grand Superintendent Christopher Butterfield.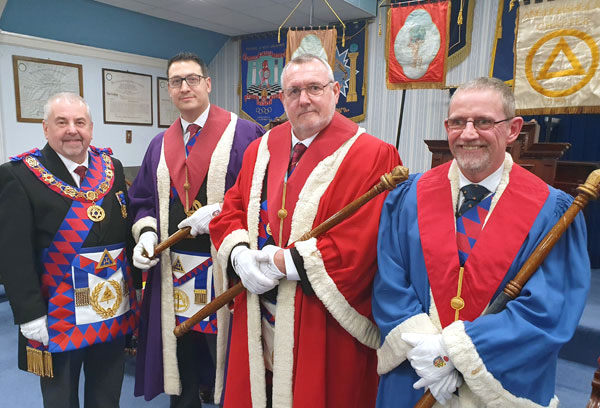 The evening held at Cleveleys Masonic Hall, was sure to be a grand event with Past Assistant to the Provincial Grand Principals Duncan Smith, Harry Cox, Ian Ward and Keith Jackson in attendance, together with an impressive  line-up of acting Provincial grand officers; John Cross the North Fylde Group Chairman and Provincial Grand Sword Bearer, David Jobbing Provincial Grand Scribe Nemiah, Kevin Byrne Provincial Grand Steward, Gavin Egan Provincial Grand Janitor and to keep everyone in line, the Deputy Provincial Grand Director of Ceremonies Jason Dell.
The chapter was opened by Alan Lock who had stepped into the first principal's role after the incumbent first principal resigned due to family reasons. Alan was honoured to conduct the installation ceremony for David Sangster as they were both previously in Knott End Chapter No 8674 where Alan had the pleasure to install David into the chair for the first time.
On completion of the administrative business of the chapter, Chris Butterfield formally entered the chapter and was welcomed by the three principals. Alan then declared the next business was the installation of the three principals.
Each principal was presented and Geoff Diggles and Gavin Egan rendered their obligations. Then it was David Sangster's turn to reaffirm his obligation, being a past first principal of Knott End Chapter.
The scripture readings were given by John Pitches and Ian Winnard. Then, once the new principals had been installed into their respective chairs, Barry Simmonds delivered the scarlet robe address, Adam Simpson delivered the purple robe address and Chris Hardingham delivered the blue robe address. The address to the principals of the chapter was delivered by John Chesters, while the address to the officers of the chapter was given by Ian Ward, leaving the final address to the companions of the chapter to the principal guest, Chris Butterfield.

Once the ceremony was complete and the officers installed, Chris rose to bring the greetings of the Grand Superintendent Mark Matthews to the principals. Chris took the time to congratulate all the companions who had taken part in the ceremony, particularly those companions who had delivered the robe addresses to such a high standard.
David Sangster then had the pleasant role of presenting cheques to Chris which were £250 to the West Lancashire Freemasons' Charity, £250 to Red Marsh School, £150 to Brian House, £150 to Prostate Cancer Research UK, £100 to Trinity Hospice, £100 to Kindness Counts UK and £100 to Carers UK.
The new principals then proceeded to complete the evening's business, close the chapter and invite all the guests to join them at the festive board where the raffle raised £150 to further the chapter's charitable endeavours.