Dalton-in-Furness Lodge No 6828 was very pleased to warmly welcome Past Assistant Grand Director of Ceremonies Phil Preston as the representative of the Provincial Grand Master Tony Harrison to its installation, held at the Masonic Hall in Barrow, in which David George Baker was installed into the chair of King Solomon.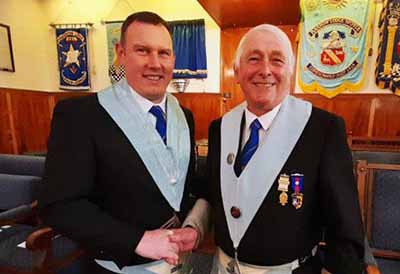 Phil was supported by grand officers Norman Thompson, William Morley (both from the Province of Cumberland and Westmorland), David Grainger, Keith Kemp, Barry Fitzgerald, Alan Jones, Barry Crossley and John Wrennall, accompanied by chairman of the Furness and South Lakeland Group Gary Rogerson and his vice chairman Alan Pattinson.
Playing their part and adding to the enjoyment of the occasion were acting officers Alan Tomlinson, Joe Crabtree, Gordon Evans, Jim Scott and Michael Tax. Michael hails from Blackpool and had made the trip to take part in the ceremony.
David Baker, hailing from Lincolnshire originally, served in the Royal Navy from 1969 to 1993. He ended his career as an engineering manager with BAE Systems in 2017. Since being initiated into Freemasonry in 2015, David has really enjoyed being involved, so much so, that he has also joined two other Masonic Orders, one being the Royal Arch.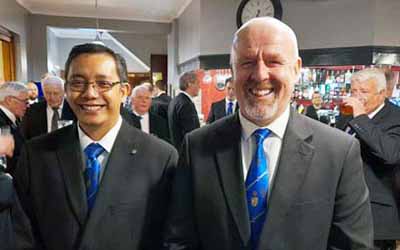 His installing master was Jamie Lindsay who, like many others in the Province, had to wait nearly two years to pass on the responsibility to David. Jamie did this with a style and sincerity that would have made his grandfather extremely proud.
The first duty David had to perform once Jamie had installed his successor into the chair of King Solomon was to present a cheque for £500 to the Masonic Charitable Foundation and £250 to St Mary's Church Toddler Group.
In his usual calm and professional manner, director of ceremonies Owen Osmotherley conducted a superb installation, his work being praised by one and all. The light blues of the lodge presented and explained the working tools of the three degrees with such clarity and precision that the future of the lodge will be safe in their hands. Matty Bolton, Gary Mayes and Ferdinand Paule thoroughly deserved their accolades, as their orations were perfect.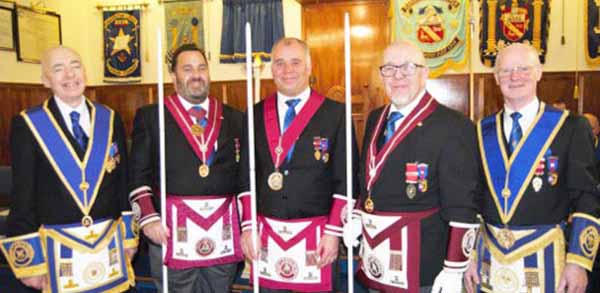 Other outstanding addresses that added colour to the ceremony were beautifully delivered by Peter Dismore, Kieran Mullan, Barry Fitzgerald and Gordon Evans, whilst Phil Preston gave an emotional and heartfelt address to the brethren of Dalton-in-Furness at the end of the ceremony.
David Baker also mentioned that he was lucky to have had 'two good mentors' that had influenced his progress through Masonry; he did not however mention any names but from David's presence and his delivery to close the official proceedings, they had certainly performed a superb job!
At the festive board, those present enjoyed a fine two-course meal, ending with Gary Rogerson singing the master's song to an appreciative audience. In response to the toast to the grand lodge officers, Phil stressed the importance of Freemasons enjoying Freemasonry. There is little doubt that the 79 brethren attending certainly did that during the very enjoyable festive board.