The February 2023 meeting of St Paul's Lodge No 5459 proved to be a memorable occasion as the brethren and guests gathered to celebrate the 50 years in Freemasonry of David Clews PPGSuptWks.
Honouring the lodge with his presence was Assistant Provincial Grand Master Andrew Whittle who was accompanied by Mersey Valley Group Chairman John Murphy.
After gratefully accepting the gavel from the WM Ian Locke, the AProvGM requested that the celebrant was placed before him and made comfortable to receive a recollection of his personal and Masonic life.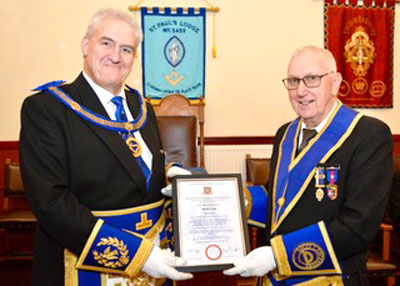 Andrew recalled that David was born in March 1944 during the sixth year of World War II and that 1944 saw some momentous wartime events occur, including; the German Enigma machine being decoded, 155,000 Allied troops shipped from England land on the beaches of Normandy in northern France on D-Day 6 June  beginning Operation Overlord and the Invasion of Normandy, a failed assassination attempt on Adolf Hitler and Allied troops attempting the largest airborne military operation in history at that time.
Also, quite bizarrely, in the midst of a world war, the 16th annual Academy Awards were held, and the first Oscar ceremony was held at a large public venue with Casablanca winning the Award for Best Picture, 'Here's looking at you, kid'!
Some of the famous people born in that year included singer Diana Ross, boxer Joe Frazier and actor Michael Douglas with the most famous of them all being our own David Clews!
Andrew went on to point out that David attended Simms Cross School as a child as did his parents and grandparents before him, with David eventually returning there as a teacher and remaining there for most of his teaching life, eventually ending his career and retiring as acting Head Teacher.

It was during his teacher training that he met a young lady called Norma Swift who he eventually married on 3 August 1968 and they will celebrate their 55th wedding anniversary later this year.
David was initiated into St Wilfred's Lodge No 7836 at Widnes Masonic Hall on 19 February 1973 by his father George Clews and his uncle Bill acting as junior deacon. He was installed as WM on 19 January 1987 and again on 17 January 2000 a position he held for 2 years. He was recognised by the province with his last promotion being the very high rank of Past Provincial Grand Superintendent of Works.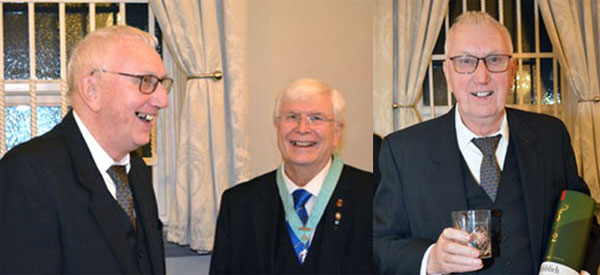 David was exalted into the Royal Arch in Kingsway Chapter No.7870 on 27 January 1975, progressing through the junior offices and becoming the chapters first principal in the early 1990's. He was subsequently recognised by the Province with a promotion to the high rank of Past Provincial Deputy Grand Sword Bearer on 11 May 2005.
The Mersey Valley Chairman John Murphy then read the certificate to celebrate his 50 years in Freemasonry and it was presented to David by Andrew on behalf of the Provincial Grand Master Mark Matthews.
After the presentation, David went on to make his own presentation to the WM Ian Locke by giving him the working tools of a master Mason from St Wilfred's Lodge which he has had in his safekeeping since the lodge handed in its warrant in March 2004.
After retiring to the Alan Locke Suite to enjoy the festive board, David was given some gifts from the lodge to mark the occasion and a wonderful evening ended with many smiling faces.