It had been a long wait for David Ogden, who reached the magic milestone of 50 years in Craft Freemasonry nearly 18 months ago. Because of the pandemic, and fitting in with the Provincial Grand Master's diary, it was a special meeting by dispensation on a Saturday evening in November 2021 before the event could take place.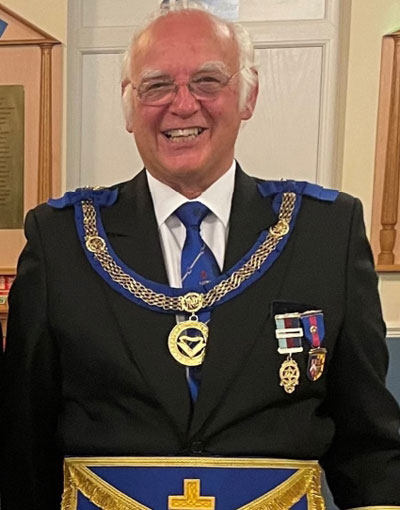 What an event it turned out to be. It is a very rare occurrence when the celebrant is a current Assistant Provincial Grand Master of the Province, and over 130 brethren came along to support David and enjoy the spectacle. Bryn Lodge No 6553 were proud to host the celebration to commemorate the outstanding contribution to Masonry of its elder statesmen who was initiated over 51 years ago. Provincial Grand Master Tony Harrison was delighted to attend the meeting at Bryn Masonic Hall. He was accompanied by Deputy Provincial Grand Master Phil Gunning and no less than seven chain bearing Assistant Provincial Grand Masters.
Such is the popularity of David throughout the Province that Tony was accompanied at this very special event by several Past Assistant Provincial Grand Masters, a host of grand officers and acting Provincial grand officers, including present and past wardens, the Provincial Grand Director of Ceremonies Malcolm Bell, together with a number of his deputies. The full lodge room was a sight to behold.
The lodge was opened for business, following which the Provincial Grand Master and the throng of distinguished guests were, amazingly without a hitch, received into the lodge and warmly welcomed by the WM John Tabern. As is customary and protocol, John offered Tony the gavel, and was delighted when he retained it on this very special occasion to conduct the proceedings. Tony thanked the WM for his warm welcome and stated that he was delighted to be at Bryn, at long last, to celebrate a very special occasion, the 50th jubilee of a very well-respected and active Mason.
Tony called on Malcolm Bell to place the celebrant in front of the pedestal, and when comfortably seated he gave a very brief overview of what had happened in the year of the David's initiation. He then proceeded to recount details of his life and Masonry to the assembled brethren. Tony stated that he and David had known each other for a considerable time and he was sure it was appropriate to lower the formalities a little and address each other by our Christian names.
David was born in August 1948, the son of John (known as Jack) and Susannah Ogden who lived in Victoria Road, Ashton-in-Makerfield. His dad was an officer in the army, and upon leaving he returned to work as the chief cashier for Lennon's Grocers, later becoming Lennon's supermarkets. In 1952 he left Lennon's and became landlord of the Imperial Hotel in Sutton, St. Helens, where David attended Robins Lane Junior School and at the age of five joined All Saints church choir. In 1957 the family moved to Haydock where his parents took over the Wagon & Horses Hotel. By this time David was nine and attended Richard Evans (known locally as Jaggers) Junior School, and joined St James Haydock church choir, becoming head chorister, and later head server right up to getting married.
Moving on to attend Haydock Secondary School, where he did pretty well, but sometimes football got in the way of education. At junior school David was captain of football in each year, and at senior school he was house captain, and played for the school team in every year. He also played for Newton Boys, Wigan Boys, Wigan Tech and Unigate, in the Liverpool League. David's favourite subject at school was geography, and perhaps that's why he came to love Travel so much!  Leaving school David attended Wigan Technical College, passing ONC and HNC in business studies.
It was in 1963 David moved, to Greenfields Crescent, Ashton-in-Makerfield, when his dad left the licence trade and moved back into the grocery business. In 1967 at the age of 21, he moved again back to Haydock, Liverpool Road where he lived up to getting married in June 1970, to his dear wife Joan, later being blessed with two lovely daughters, Andrea and Carol. After another couple of moves, David finally settled into the present home in Liverpool Road, Haydock.

Another sporting passion was crown green bowling. The Wagon & Horses had a bowling green and David's grandad who lived with him at that time, taught him how to bowl, and very few people could beat him giving him a place in the Wagon team up to getting banned on discovery of being too young and in contravention of the existing licencing laws. From the age of 16 David played in competitions everywhere, including Liverpool, Blackpool, Isle of Man and New Brighton However, this all finished due to work pressure and other interests, like the brass bands which have always been a part of his life, David played for the Haydock Band from the age of nine, for over 25 years, during which time it became a championship band, competing against the likes of Black Dyke, Fairys, Brighouse and Rastrick and others in competitions all over Britain, and having the privilege of playing twice at the Royal Albert Hall.
Eventually, when in business, David became the main sponsor of Haydock Band and the name was changed to Haydock Ogden Travel Band, but sadly this ended a few years ago.  David now is sponsoring Greenall's Band who are quite active in supporting Masonry throughout our Province.
David is very involved with the local church, St Mark's at Haydock, and together with Joan, through his business are sponsors of 'God TV' which is spreading the word of Jesus and Christianity throughout the world. Through the church, for many years now, David and Joan have sponsored a children's football team in Tanzania.  From the age of eight David has been raising money for various charities, initially selling tickets in his dad's pub, and moving onto supporting charities such as Willowbrook Hospice, Guide Dogs for the Blind, and just completed a fund raising for North West Air Ambulance through the business raising £30,000 over four years.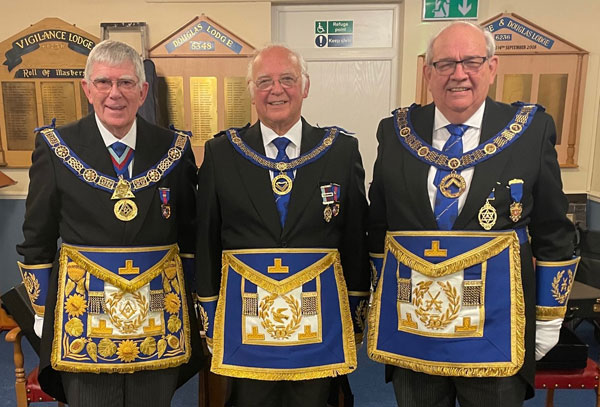 Having finished his education at Wigan Tech, first employment was at Stamina Foods in St Helens, part of the Cerebos Group, making dog and cat food. As a trainee buyer, with the task of ordering 1,000s of tons of whale meat and horsemeat from all over the world, he decided that was not for him so left after a year and joined the Lancashire Police Cadets. There, training was spoiled by the fact the Lancashire Constabulary Band found out he could play a cornet and then spent two days a week at rehearsals whilst all his colleagues were training how to become police officers. In addition, being one of very few cadets who could drive, David ended up volunteering to drive the van for the WRVS and delivering mail around the various police stations, so lost interest in a career in the police. Dad wanted David to work with him in developing his grocery business as he had opened two self-service mini markets, quite new in those days, so he worked for him and helped to expand the business to nine mini market shops. Sadly, dad became ill, and it was obvious that they had to cut back, so the shops were rented out one by one over a period of years. This was a challenging and exciting time in his working life.
David's time came when he really started his working career when he asked his dad if you could borrow the works van to transport members of the band to various venues. He rightly said yes, and he put four Heinz beans boxes in the back of the van with two planks across, and there was first people carrier. After a couple of seasons and thanks to dad, a van with bench seats was purchased and that was used until he married at 21, when, still working for dad, David and Joan bought a minibus. They continued to transport the bowlers and others and taking on some works runs for a local company, until it was discovered that it was totally illegal. So, David had to find out how to make everything legal and the first job was to take the PSV driving test, which was passed first time, and then Joan passed allowing the operation to continue with four mini buses. Having got the bug for driving people around, Joan continued with the minibuses and David went to drive for Bob Mayers in Orrell, who taught him a great deal about the coach business, but wanting to do tours, he moved on to Smiths Happyways Spencers and would probably still be there now if they had not amalgamated with Shearings.
Having saved enough money to buy a house in Leigh Road and a six-year-old coach, which was £4,000, David started his coach holiday business in 1975. Interestingly, a six-year-old coach today would cost about £125,000. In addition to the coach business David and Joan decided to go into the travel business and built up to nine travel agencies around the area. Things change over time, and customer habits and the massive increase in the online holiday business meant that although retaining the properties, the travel agencies closed one by one over a period of 10 years, only two now remaining, run by daughter Carol.
David became a committee member of the Passenger Vehicle Operators Association, now Confederation of Passenger Transport, and held various positions and chairs, including being made Chairman of the Confederation in 2000, a position he held for two years, finally standing down from the committee in 2015, after a commitment of 40 years. Driving and arranging Holiday Tours and doing his best to ensure passengers enjoy their experience with David Ogden Holidays has always been David's passion, but recognises that he could not have done any of this without the support and commitment of his wife Joan, who retired some years ago. David now runs the business with his daughter Carol or is it she runs the business with him.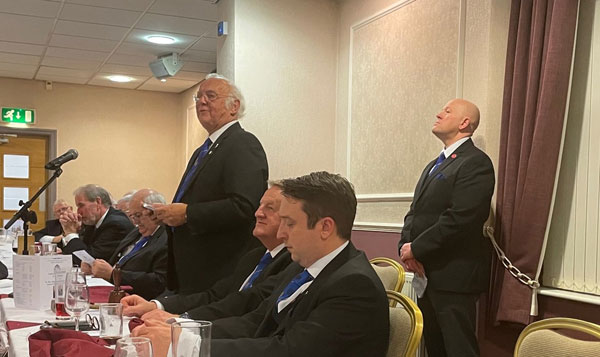 David became involved in Freemasonry many years before joining a lodge. Great grandfather George Hill, was a member of Lodge of Faith No 484 in 1865, 156 years ago, whilst uncle Abel was a member of Lodge of Faith who also celebrated 50 years in Masonry and was a founder of Bryn Lodge No 6553. David's father was proposed into Bryn Lodge in 1949 and was one of Bryn`s very first candidates. David himself was initiated in March 1970, at 21 years of age. Not surprisingly, he was proposed by his dad and seconded by his uncle. Serving every office in the lodge David was installed as master in 1984.  He took on many other offices in the coming years. becoming Regional Charity Steward between 2005 and 2011 for the Wigan, Chorley and Leigh Groups. He was the founding chairman of the development group at Bryn, which has raised over £100,000 providing new ladies toilets and many more amenities that have improved the hall.
David served his lodge well and has taken on many duties within the group and Province over the years, including being Vice Captain and Captain of Stewards at two Provincial Grand Lodge meetings, and raising £1,000s for various charities. David also served as the Group Secretary and Group Vice Chairman. Apart from his mother lodge, David is also a member of Quingenti Lodge No 8516, joining in 1991 and has been an active steward at every Provincial meeting since joining. His other lodges are Lathom Lodge No 2229, Borough Lodge No 3996, Ancient and Loyal Lodge of Installed Masters No 9762 and Hope Lodge No 4003.
In Provincial Grand Lodge, David was an acting Provincial Grand Steward and was promoted to PPSGD and then to PPJGW in 2002. He received an appointment in Grand Lodge to PAGDC in 2013; receiving a promotion to PSGD when he was appointed as an Assistant Provincial Grand Master in 2018. In the Royal Arch, David was exalted into Ashton Trinity Chapter No 8821 in 1984, was first principal in 1993, and became a joining member of Setantia Chapter No 7755 in 1995, Provincial Grand Stewards' Chapter of West Lancashire No 8516 in 1997 and the Bikers' Chapter No 1380 in 2018. He received the Provincial appointment of acting steward in 1997, was promoted to PPGSwdB in 2001 and then to PPGSN in 2007. In Supreme Grand Chapter David was appointed to PGStdB in 2018.
Tony completed his presentation by addressing David as follows: "Masonry has obviously played a big part of your life; you have made many true friends who have supported you and your family through thick and thin. David you are a very dedicated and enthusiastic Freemason who has been most loyal in fulfilling your duties, to your lodges and to the Province. You are to be congratulated on the exemplary manner in which you have discharged all your civil, Christian and Masonic duties throughout your life. Your hand has been guided by justice and your heart has been expanded by benevolence and by your conduct through life, you have proved to the world the happy and beneficial effects of our ancient institution. You really have practiced out of the lodge all those duties which you have been taught in it. You are a fine example to the brethren of this lodge and indeed to us all. You have, of necessity, learnt, submitted and obeyed the essential qualification of humility, and have united with your fellow brethren in the grand design of being happy and communicating happiness to the brethren of Bryn Lodge together with all the lodges and chapters in this Province and indeed your local community. You are greatly respected by your many friends and colleagues and I for one am extremely honoured and privileged to be working with you and to be a good friend. May you continue your good work and transmit these principals and tenets to your fellow brethren for many years to come. Now having served as a Freemason for a period of 50 years, may I now, offer you my heartiest congratulations on this marvellous achievement and great milestone in your life."
Tony then invited group chairman Geoffrey Porter to read a certificate celebrating David's 50 years in Freemasonry to all those present, following which he extended heartiest congratulations and sincere good wishes to both David and Joan and formally presented it to rapturous applause from the assembled audience. Tony then welcomed John Tabern back in his chair.
The celebrations continued at the festive board which can be described as lively and enjoyable but that doesn't capture the electric atmosphere that permeated through the dining room and bar for the whole evening and late into the night. Tony again paid tribute to David at the festive board, and fellow lodge member Barry Dickinson was both delighted and honoured to propose the toast to his friend and brother. Both the toast and David's response were filled with emotion. David gave thanks to all his friends and to Freemasonry for all it had done to enrich his life over the past 50 years. David had on a previous unofficial occasion during a break in lockdown, been presented with a watch and a commemorative 'This is your life' type book of memories. For this evening, on behalf of the lodge, John Tabern was pleased to present him with a rather fine example of his favourite tipple, brandy. John then presented both Tony and David with a bouquet of flowers. All in all, it was a wonderful and joyous event, celebrating a wonderful man and dedicated Freemason.