Rufford Lodge No 7217 meeting at the Park Hall Hotel, Charnock Richard, celebrated 50 years in Freemasonry of David Magill. The meeting was presided over by Frank Umbers, Assistant Provincial Grand Master, Frank was accompanied by Ormskirk and Bootle Group Chairman Graham Chambers and grand officers Brian Fairhurst and Thomas Norris.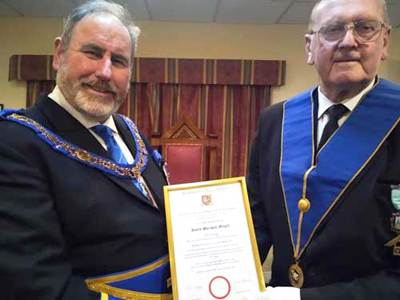 Frank began by saying: "David what a pleasure it was for me to visit and spend some time with you last week. We had a real good natter and for your hospitality and the detail you provided to me for this evening, thank you."
David was born in 1939 and the family home was in Claro Road, Bootle. In the early years of David's life, Britain was involved in the Second World War, with the very important strategic location of the Port of Liverpool and the surrounding dock areas, including Bootle, was experiencing heavy and sustained bombing by the German Luftwaffe. The family home was one in a row of three flattened by a stick of bombs during one of those raids.
David, along with his sister, mum and grandmother, were evacuated to the island of Anglesey. He was not there long, but David does remember always being called David 'Bach' by the locals. After a short while David relocated to Mawdsley first, then Sandy Way in Holmeswood and finally, aged 14, High Sands Avenue, Rufford.  Attending Holmeswood Primary and then Ormskirk County Secondary School.
On leaving school aged 15, David's first job was on Bill Allan's farm at Moss End, Holmeswood and at 17 he then took a job as a trailer boy at Joseph H Martlands farm, Burscough. Here he learnt how to drive. In those days as a learner, you were allowed to drive with the customary 'L' Plates, but did not need anyone supervising.
David was doing local deliveries in a 3.5-ton old model Bedford, in which he took his driving test. There was no passenger seat in the wagon, so on the day of the test he had to put in a box and a cushion for the examiner to sit on. David duly took off to the test centre in Southport and passed with flying colours.
David was soon on the move again chasing the better money and started with Walter Southworth Haulage Contractor as a second man because of their use of drawbar trailers. Their wagons were dark blue, cream and red livery with gold signwriting.
Continuing, Frank said: "You recall the many times you left Rufford at 3:00am in the morning fully loaded with 300 140Ib bags of flour to Blanchard's Bakery in Nottingham, then over to Lincolnshire to collect grain to bring back home. No tachographs in those days."
It was at this time, after going along with some friends to the Friday night dance at the Hesketh Bank church hall, David met and began courting Margaret and moved jobs again and went to work for Henry Caunce Haulage at Mere Brow. In 1961 Margaret and David were married at Mere Brow Methodist Chapel and set up home in Mere Brow. David and Margaret had 57 wonderful years of marriage.
After seven years with Henry Caunce, David moved again to work for G B Crook at Banks and became the Office Manager at their Preston Docks branch, managing a fleet of seven vehicles. It was then in 1971, aged 32, David decided to strike out on his own and he bought his first wagon, a Leyland Beaver tractor unit from W & J Ridings at Longridge and after just two years David was able to purchase a 4 X 2 Atkinson Borderer tractor unit, from Hardman Brothers at Walton-le-Dale, for the princely sum of £5,650.00.
Frank then added: "Over the years you changed up to a Seddon Atkinson, followed by a Ford Trans Continental and then finally saving your best to last a Scania, which you used on your contract with Ferry Masters, transporting containers to main land Europe, Belgium, France and Germany. You hung up your wagon keys for the last time when aged 63, but your love of driving was ever present and you originally set up as one of the local taxi's in Mere Brow. This expanded to a couple of cars and a couple of eight-seater mini buses after winning a council contract for running children to and from school. You eventually retired when aged 70."
David was for over 28 years, a member of Hesketh Golf Club, originally known as Southport Golf Club. Established in 1885, it's the oldest golf club in Southport. It even predates Royal Lytham & St Annes and of course, Royal Birkdale. Hesketh members went on to help form Birkdale, Ormskirk and Manchester Golf Clubs.
David has also played crown green bowls, playing to a reasonable standard once wining the doubles competition at the annual Ormskirk and District Group Bowls. David now spends some of his time fishing and is a member of both Southport and District and Wigan and District Angling Associations and visits many different venues to angle freshwater fish species including carp.
Over the years David has attended many Old Commercial Vehicle Rallies, namely, the Trans Pennine, Tyne Tees and also around the Manchester area. In its day, proudly taking his Atkinson Borderer along.
Frank then went on to give an account of David's Masonic career, David was initiated into Rufford Lodge in 1970, after being proposed by his elder brother Stanley and seconded by Ernie Iddon. David became WM in 1981 and was promoted to the rank of Past Provincial Senior Grand Deacon in 1992. In 1984 David joined Silver Jubilee Lodge of Installed Masters No 8818 in Southport and remained a member for 27 years.
In 1987 David was exalted into St Michael's Chapter No.5756 on 16 November, 1987 and remained a member for 22 years.
Concluding, Frank said: "David, you have set an example to us all in your life. A life full of commitment, devotion, hard work and success in your career. Also, 50 years of dedication to Freemasonry." Frank then called on Graham Chambers to read David's jubilee certificate.
The brethren then retired to the festive board where a fine meal was enjoyed by all present.